Another top NCAA forward will be leaving the college ranks, as Riley Tufte has decided to leave the University of Minnesota-Duluth and sign with the Dallas Stars. The big winger recently recorded an assist in the NCAA championship game as UMD downed UMass 3-0 to win their second consecutive title. He'll give up his senior season to start his professional career, signing a three-year entry-level contract.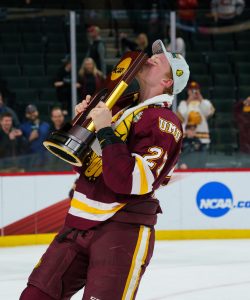 Tufte, 21, is a player who has been on the radar of NHL teams for quite some time, going back to his days as a dominant high school player in Minnesota. The 6'6″ winger was named Minnesota Mr. Hockey in 2016 after scoring 78 points in 25 games as the captain of Blaine High, and took that success to the college level by joining one of the best programs in the country at UMD. Though his offense would waver at times during his collegiate career, Tufte still leaves with 64 points in 121 games and a whole bunch of wins under his belt. During his time there he also took home a World Juniors bronze medal.
It's hard to know if his offensive game will ever really be good enough to justify the 25th-overall selection that Dallas used on Tufte in 2016, but there are certainly other attributes he brings to the table that could get him into the NHL. In fact, professional hockey may actually suit his game well as his size, reach and skating ability are all good enough to survive in the tighter checking atmosphere.
He may take some time in the minor leagues to develop, but the Stars hope they have another signature big two-way player to add to their group. GM Jim Nill seems to be building a brand of hockey that Tufte fits right into, but he'll need to find a way to put the puck in the net to really thrive at the next level.