The Vancouver Canucks have had plenty of intrigue at the goaltender position this season, finding themselves without anyone to start in the minor leagues at various times. All that was caused by trading away Anders Nilsson, knowing that they wanted to give young up-and-comer Thatcher Demko a shot in the NHL. While Demko has looked fine in his five appearances, the more impressive run has been by 29-year old Jacob Markstrom.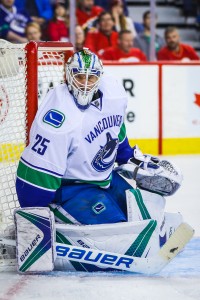 Markstrom has a .929 save percentage over his last 14 starts, raising his numbers on the year to .915—the best mark of his career. He's recorded a 26-20-9 record through 55 starts, an impressive total for a team that has lost more games than they've won overall on the season. While Demko may still represent the goaltender of the future, this run by Markstrom has definitely put himself in position for a potential extension. His current deal, which carries just a $3.67MM cap hit, expires after 2019-20 meaning he could sign an extension this July. Elliotte Friedman of Sportsnet though reports that there have been no talks yet between the two sides.
There's good reason to believe that Markstrom has finally started to figure things out. He now has a .913 save percentage across his last four seasons, and has looked poised all year long behind an exciting Vancouver team. Remember this is a player that was selected 31st overall in 2008, and experienced incredible success early in his career. Markstrom was named the best goaltender at the 2008 World Junior tournament, carrying his Swedish team to a silver medal, and then won SHL Rookie and Goaltender of the Year after the 2009-10 season.
While the Canucks may not be competing for the Stanley Cup next season, their young core of Elias Pettersson, Brock Boeser, Quinn Hughes and others are going to be pushing for the playoffs before long. The team will have to decide who they want backstopping that group, and whether they can afford to keep Markstrom around. Demko meanwhile is a restricted free agent this summer, but does not have arbitration rights and likely will have to settle for an inexpensive deal.
Photo courtesy of USA Today Sports Images