It's not very often that a team decides to dismantle their team quite as thoroughly and openly as the New York Rangers have over the past year. Starting with a letter to their fans in early February 2018, the Rangers' front office explained that they did not believe the roster as then constructed was going to bring any realistic success or a chance at a Stanley Cup. Just a few weeks later the team began selling off their biggest assets, dealing Nick Holden, Michael Grabner, Rick Nash, Ryan McDonagh and J.T. Miller in the span of just a few days. After that kind of a deadline, it was obvious that the Rangers wouldn't stop there.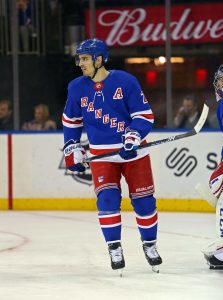 This season's deadline brought much of the same, as New York jettisoned Mats Zuccarello, Kevin Hayes and Adam McQuaid for almost entirely future assets. One name that was brought up repeatedly but never moved however was power forward Chris Kreider. Kreider represents the last member of the former core with an expiring contract, as his deal is up following the 2019-20 season, and now sits as the biggest decision the team must make this summer. The talented winger will turn 28 in April, and could be an extension candidate if the team believes he can help them get back to the playoffs with their rebuilt lineup. He could also be their biggest trade chip at the draft if they want to take another step backwards to build the prospect cupboard up. In fact, Larry Brooks of the New York Post writes that there is "not even the slightest chance" that Kreider will report to Rangers training camp in the fall without an extension, implying he would be traded without one.
That decision will come after a potentially career-best season from Kreider, even if it has come with some ups and downs. The 6'3″ forward is just two goals and four points from his previous highs, both set in 2016-17 on a team that finished with 102 points and made it to the second round. There would certainly be a lot of teams lining up for his services if available, given his 30-goal potential and all-around effectiveness. Hayes, for instance (who admittedly is a center) has never scored 50 points in a season but landed the Rangers a good young player and first-round pick even as a pure rental. The fact that they potentially could get more than that for Kreider with a bigger market may be too much to pass up.
But at some point, the team will have to decide if they're ready to compete again. A multi-year extension for Kreider, expensive as it may be, may help the team do just that in the next few years when young players like Brett Howden, Lias Andersson and Filip Chytil are still on their entry-level deals. There's plenty of talent in the system now for New York, and it may be time to start retaining it instead of cashing it in.
For now, Kreider and the team will focus on finishing out the season strong and without injury—something the forward has battled for much of the season, according to Brooks—while developing their young players at the highest level. But come this summer there will be a point where GM Jeff Gorton and his staff will have to decide when the next phase of the plan is scheduled for, and if Kreider is a part of it.