The Florida Panthers have already traded away Nick Bjugstad and Jared McCann in an attempt to clear some salary off their books moving forward, and are at least preparing to do it again if the need arises. Pierre LeBrun of The Athletic tweets that Mike Hoffman has been asked to submit his 10-team no-trade list ahead of the deadline, giving the Panthers at least some idea of where he does not want to go. LeBrun is quick to point out that this does not guarantee a trade by Monday's deadline, but does signify that teams have been expressing interest in the sniper. Hoffman's contract carries a $5.1875MM average annual value through the 2019-20 season.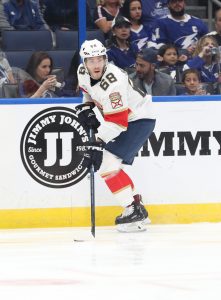 Hoffman, 29, is having the best season of his career in Florida with 49 points through his first 58 games. That includes 26 goals, a pace that would push him over the 30-goal threshold for the first time in his career. Possessing a lethal combination of shooting ability and speed, the winger could be added to almost any lineup for an instant offensive injection.
Still, that success that Hoffman has found in Florida is not something the team will be quick to throw away. After the Ottawa Senators were forced to sell Hoffman to the San Jose Sharks following a locker room feud between him and then captain Erik Karlsson, the Panthers snapped him up knowing first hand how dangerous he could be with the puck on his stick.
All that success might not matter though if the Panthers have their sights set on a bigger fish. Several reports have surfaced over the last month that the team will be interested in signing Sergei Bobrovsky and Artemi Panarin should they both reach free agency, and Florida would need to clear salary—not necessarily cap space—in order to do that. The team is not quite a cap team, especially if the ceiling keeps increasing every year. Of course, clearing salary doesn't immediately mean Hoffman is on his way out. Signing Bobrovsky would also mean the departure of at least one of Roberto Luongo or James Reimer in some fashion, though the former has very little actual salary left on his deal.
If Hoffman was available, you can bet several teams would be interested despite his questionable departure from Ottawa. Those who are less interested in going after the high-end rental options might think that he's actually more valuable, given that he will be coming back for an additional season at a reasonable price and is still young enough to continue performing.
Photo courtesy of USA Today Sports Images