With the trade deadline now less than a week away, we continue our look at the situation for each team over the coming weeks.  Where do they stand, what do they need to do, and what assets do they have to fill those needs?  As we continue previewing the Metropolitan Division, here is a look at the Washington Capitals.
Following their Stanley Cup victory, expectations were high for Washington heading into the season.  However, while they've hovered near the top of the Metropolitan Division for most of the year, they've yet to really establish themselves as true contenders either.  They're within striking distance for the division lead but are also only three points up on a playoff spot.  It's not likely that GM Brian MacLellan will be satisfied with that so expect him to try to shake up the roster over the next week.
Record
32-20-7, second in the Metropolitan Division
Deadline Status
Buyer
Deadline Cap Space
$1.1MM in a full-season cap hit, 0/3 used salary cap retention slots, 48/50 contracts per CapFriendly
Upcoming Draft Picks
2019: WSH 1st, WSH 2nd, WSH 3rd, WSH 4th, WSH 7th
2020: WSH 1st, WSH 2nd, WSH 3rd, WSH 4th, WSH 5th, WSH 6th, WSH 7th
Trade Chips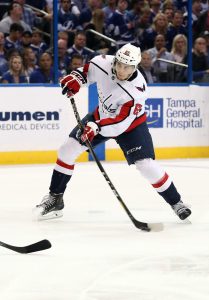 Winger Andre Burakovsky's name has been in trade speculation for months and remains their likeliest trade chip.  While he's only a couple of years removed from picking up a respectable 35 points in 64 games, he has steadily worked his way down the depth chart since then to the point where he's averaging a career low in ice time and is logging just over 11 minutes a night.  He's still rather young having turned 24 earlier this month so between that and his previous success, there should be teams that have some interest.  However, the fact that he's owed a $3.25MM qualifying offer this summer may limit that interest.  If MacLellan has eyes on adding anyone of significance over the next week though, Burakovsky will need to be moved.
As for others that could be in play, there has been a rotation on Washington's fourth line all season long and winger Dmitrij Jaskin has often been the odd one out.  He was a regular in St. Louis last year and plays with a physical edge which could interest teams looking to add some grit for the stretch run.  With a $1.1MM cap hit, swapping him out for someone a bit cheaper would give the Capitals some much-needed wiggle room on the cap as well.  Winger Riley Barber cleared waivers at the start of the season but has been quite productive with AHL Hershey.  He's eligible for Group Six unrestricted free agency in the summer so there may be a team that decides they'd like to take a look at him and assess his NHL upside over the final few weeks of the season.
Five Players To Watch For: F Riley Barber, F Andre Burakovsky, F Shane Gersich, F Dmitrij Jaskin, D Tyler Lewington
Team Needs
1) Cap Space: Before even considering their needs, Washington needs to have some cap space to fill them.  Right now, they can add a cheap depth player and nothing more.  While that might be enough to add to their back end, that's not going to be enough to push them forward and help secure a top-three spot in the division.  That's what makes Burakovsky likely to move as simply shedding his contract should free up enough cap room to add someone of significance.  Looking ahead to next year, with nearly $69MM tied up in 14 players already, finding a way to add a bit more flexibility for 2019-20 wouldn't be a bad idea either.
2) Offensive Winger: Washington is in good shape down the middle with Nicklas Backstrom, Evgeny Kuznetsov, and Lars Eller as their top three centers.  However, their depth on the wing isn't as strong.  Brett Connolly is having a career year but he's better off in a tertiary scoring role rather than being utilized in the top six.  Finding someone to fill that right wing spot and push Connolly down the lineup would certainly help improve an already strong attack.  This was the role they envisioned for Burakovsky but he hasn't been able to fill it consistently.
Photo courtesy of USA Today Sports Images.