With the trade deadline fast approaching, we will be taking a closer look at the situation for each team over the coming weeks.  Where do they stand, what do they need to do, and what assets do they have to fill those needs?  Next up is a look at the Vancouver Canucks.
This season hasn't gone as many expected for Vancouver.  Fortunately for the Canucks, it's not a case of failing to meet expectations but rather exceeding them.  Instead of being a team that's hanging around the battle for the top draft pick, they're right in the thick of the battle for a Wild Card spot in the Western Conference.  Accordingly, their plans for the upcoming trade deadline have likely changed.
Record
24-23-6, fourth in the Pacific Division
Deadline Status
Moderate Buyer
Deadline Cap Space
$46.364MM in a full-season cap hit, 2/3 used salary cap retention slots, 45/50 contracts per CapFriendly
Upcoming Draft Picks
2019: VAN 1st, VAN 2nd, VAN 3rd, VAN 4th, VAN 5th, OTT 6th, VAN 6th, WSH 6th, VAN 7th
2020: VAN 1st, VAN 2nd, VAN 3rd, VAN 4th, VAN 5th, VAN 6th, ANA 7th, VAN 7th
Trade Chips
One player that Vancouver is certain to get inquiries on is defenseman Alexander Edler.  The pending unrestricted free agent would be a significant upgrade on many contenders and the Canucks could land a fairly significant return if they were to move him.  However, Edler has indicated his preference is to remain in Vancouver and as long as they're in the playoff hunt, they probably won't be looking to move him.  He also suffered a serious-looking injury tonight against Philadelphia which could certainly wind up affecting things.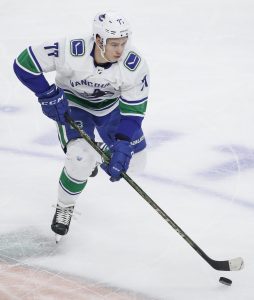 Instead, their likeliest trade chips lie on the fringes of the roster.  The most prominent of those is winger Nikolay Goldobin.  While it seems odd classifying someone that is fourth on the team in scoring as being on the fringe of the roster, it's actually true here.  The 23-year-old was a healthy scratch recently for four straight games while his ice time has been erratic when he has been in the lineup.  The offensive upside is certainly there and he has been reasonable productive overall with 24 points in 45 games.  However, the lack of an all-around game has resulted in a quick hook when it comes to shuffling the lines up.  If they're looking for more consistency, Goldobin could wind up being on the move.
Winger Tim Schaller hasn't exactly lived up to his contract and it's certainly conceivable that the Canucks could try to get out of the final year of his deal in a swap of underachieving players.  On the back end, Alex Biega is basically a full-time extra but with teams often looking to add defensive depth for the stretch run, this may be the time for them to get an asset for him, even if it's a relatively minor one.
Five Players To Watch For: D Alex Biega, F Sam Gagner, F Nikolay Goldobin, F Markus Granlund, F Tim Schaller
Team Needs
1) Impact Defenseman: Behind Edler and Chris Tanev, Vancouver's back end pretty much consists of players that would be best served in limited roles and right now, some of them are playing more than they'd like.  They have high hopes that prospects Quinn Hughes and Olli Juolevi will eventually become impact defenders but Hughes is still in college and Juolevi's out for the season.  If they're looking for more immediate help, they'll have to turn to the trade market; even if Hughes signs late in the year, he probably won't be stepping into a top-four role right away.
2) Scoring Winger: The top three of Elias Pettersson, Brock Boeser, and Bo Horvat are well-established.  However, they haven't had much help behind them on a consistent basis.  Goldobin and Jake Virtanen have shown flashes but have also largely been invisible at times while Loui Eriksson is nowhere near the $6MM player that they're paying him to be.  One more consistent winger could allow the Canucks to roll two quality offensive lines which would be a big boost to their middle of the pack offense.
Photo courtesy of USA Today Sports Images.