With the trade deadline now just days away, we continue our look at the situation for each team over the coming weeks.  Where do they stand, what do they need to do, and what assets do they have to fill those needs?  As we continue previewing the Metropolitan Division, here is a look at the Pittsburgh Penguins.
The Penguins came into the season as a perceived contender in the Metropolitan.  However, the team has scuffled their way through the first three quarters of the year and are only three points up on a playoff spot.  GM Jim Rutherford has already pulled the trigger on a significant trade already but many expect them to do something else in the coming days but without many trade chips of note, their options could be limited.
Record
32-21-7, third in the Metropolitan Division
Deadline Status
Buyer
Deadline Cap Space
$2.295MM in a full-season cap hit, 1/3 used salary cap retention slots, 45/50 contracts per CapFriendly
Upcoming Draft Picks
2019: PIT 1st, BUF 4th*, PIT 5th
2020: PIT 1st, PIT 3rd, PIT 4th, PIT 5th, PIT 6th, PIT 7th
* –  If Conor Sheary scores 20 goals or 40 points this season or Buffalo trades Matt Hunwick, this pick upgrades to a 2019 third-round pick.  Sheary currently has nine goals and 24 points on the year.
Trade Chips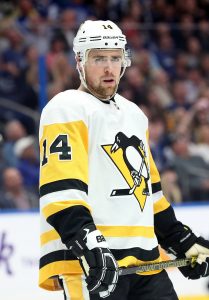 It's unlikely that the Penguins will look to subtract too much from their current roster but one player they'd likely be willing to move is winger Tanner Pearson.  While he has performed better with Pittsburgh than he did with Los Angeles earlier this season, the 26-year-old still hasn't had much of an impact and has just 15 points in 59 games between the two teams.  That's not great value for someone who is signed through 2020-21 with a $3.75MM AAV.  Finding a way to clear out that contract could open up a lot more flexibility for GM Jim Rutherford to work with but that will be a difficult move to make without either taking a similar contract back or retaining some salary.
One player that isn't on their roster that is sure to generate some interest is goalie Tristan Jarry.  The three-year extension that Casey DeSmith signed last month all but cemented Jarry's fate that there isn't a spot for him long-term in the organization.  He held his own in 26 games with Pittsburgh last season and while his numbers with AHL Wilkes-Barre/Scranton aren't among the top goalies in the league, that performance last year will ensure that there is interest in him.  Quite a few teams are on the lookout for young goalies and even more are seeking a cheap backup to allow them to spend more elsewhere.  At 23 with an AAV of $675K through next season, Jarry checks both boxes.
With only three draft picks in the fold for this season, it's unlikely that they will want to deal any more of those which limits their trade options that much more.
Five Players To Watch For: F Joseph Blandisi, F Teddy Blueger, F Jean-Sebastien Dea, G Tristan Jarry, F Tanner Pearson
Team Needs
1) Defensive Depth: With Olli Maatta out long-term, the Penguins could stand to add some more depth on their back end to hedge against further injury.  Speaking with reporters today (including Jonathan Bombulie of the Pittsburgh Tribune-Review), Rutherford indicated that while he's pleased with the current state of their back end, they could look to add someone.  Worth noting, any addition to their blueline would likely be someone on an expiring contract.
2) Top-Line Winger Consistency: While it's a positive that Sidney Crosby can play with so many different wingers, it's an issue that he's had to deal with a rotation of them on a regular basis.  The team wants to spread out its offense but in doing so, they've had their franchise player skating with some players who are better served in middle-six roles along the way.  In a perfect world, adding a right winger that could be a more permanent solution alongside Crosby and Jake Guentzel would be ideal.  They'd need to free up some cap room before trying to do this, however.
Photo courtesy of USA Today Sports Images.