With the trade deadline now just days away, we continue our look at the deadline situation for each team.  Where do they stand, what do they need to do, and what assets do they have to fill those needs?  As we continue previewing the Metropolitan Division, here is a look at the Philadelphia Flyers.
It has been a weird season in Philadelphia.  They've changed the GM, changed the coach, and while they haven't made a bunch of significant roster changes, they were on quite the run to get themselves within striking distance of a playoff spot.  That is, until this week where they lost badly in two straight games.  As a result, their fortune doesn't appear to be fully set with the deadline now less than 72 hours away.
Record
28-26-7, sixth in the Metropolitan Division
Deadline Status
Seller
Deadline Cap Space
$37.608MM in a full-season cap hit, 1/3 used salary cap retention slots, 46/50 contracts per CapFriendly
Upcoming Draft Picks
2019: PHI 1st, PHI 2nd, NJ 3rd, PHI 3rd, PHI 4th, PHI 5th, ARI 6th, PHI 6th, MTL 7th, PHI 7th
2020: PHI 1st, PHI 2nd, PHI 3rd, PHI 4th, PHI 5th, PHI 6th, PHI 7th
Trade Chips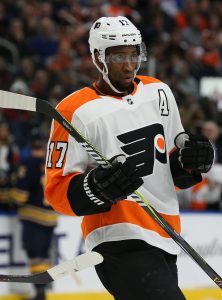 Winger Wayne Simmonds has been a very productive member of the Flyers since the 2011-12 season.  In that span, he has become one of the more prominent power forwards in the league while showing a pretty consistent scoring touch.  However, it appears that his days in Philadelphia are pretty much numbered.  It doesn't appear as if progress on a contract extension have been made (with either of their GMs this season) as there is some concern over the term of the deal that the 30-year-old is seeking.  While that matters in terms of free agency, it doesn't matter as much for his short-term future as there will be no shortage of suitors for his services.  He will be one of the more prominent players to move by February 25th.
Goaltending has been an area of concern for Philadelphia for most of the season although Carter Hart's play is certainly cause for optimism.  However, with the acquisition of Cam Talbot, there doesn't appear to be a spot for Brian Elliott for the rest of the season.  Now healthy, he's a candidate to be moved for teams in need of goalie depth.  If Michal Neuvirth was healthy, he'd be here too.  If they have plans on extending Talbot, that could make Alex Lyon available as well.
In terms of other skaters, winger Michael Raffl could be interesting as a buy-low candidate.  He can play both wings and while his production is down this season, he's only a year removed from scoring 13 goals.  Teams looking for a bit more pop from their fourth line could turn to him.
Five Players To Watch For: G Brian Elliott, G Alex Lyon F Michael Raffl, F Wayne Simmonds, F Mike Vecchione
Team Needs
1) Scoring Wingers: With Simmonds likely to be on the move, they're going to have a vacancy that needs to be filled long-term.  Finding someone that can help 2017 number two pick Nolan Patrick take his game to another level is also going to be a priority.  It's unlikely that the Flyers will look to address this now given that they're going to be sellers but they may look to bring in a young winger or two to experiment with in the short-term before looking to the trade market or free agency this summer.
2) Make Room For The Youth: Phillipe Myers was recently recalled but he has seen minimal playing time since then.  Samuel Morin is on his conditioning stint and should be back soon.  These blueliners are key parts of the Flyers future but right now, there isn't a regular top-six spot for them.  There has been some speculation regarding the likes of Shayne Gostisbehere and Radko Gudas in recent weeks but a move involving them may be easier to make over the summer which doesn't do anything to solve the looming logjam.  If it isn't addressed now, watch for it to happen closer to the draft.
Photo courtesy of USA Today Sports Images.