With the trade deadline fast approaching, we continue our look at the situation for each team over the coming weeks.  Where do they stand, what do they need to do, and what assets do they have to fill those needs?  As we continue previewing the Atlantic Division, here is a look at the Montreal Canadiens.
Montreal has been one of the bigger surprises in the league this season.  After their summer activity, many expected they would be battling for draft lottery seeding but instead, they're in the mix for a top-three spot in the division.  Instead of being sellers, the Canadiens may very well continue to try to add to their roster.
Record
31-18-7, fourth in the Atlantic Division
Deadline Status
Moderate Buyer
Deadline Cap Space
$41.813MM in a full-season cap hit, 1/3 used salary cap retention slots, 43/50 contracts per CapFriendly
Upcoming Draft Picks
2019: MTL 1st, CBJ 2nd, MTL 2nd, MTL 3rd, MTL 4th, ARI 5th, CHI 5th, EDM 5th, MTL 6th, WPG 7th
2020: MTL 1st, MTL 2nd, MTL 3rd, MTL 4th, WPG 4th, MTL 5th, MTL 6th, MTL 7th
Trade Chips
GM Marc Bergevin has already stated that he is open to taking on a bad contract to bring in other assets, similar to what he did when the team added winger Joel Armia in late June from Winnipeg in exchange for taking on (and buying out) goalie Steve Mason's contract.  That's not the most appealing of trade chips but it's likely the Canadiens will be trying to make a similar type of move in the next little while.
In terms of players that could be available, Montreal has been tinkering with their defense corps for a while now and that probably hasn't finished yet.  Jordie Benn is likely the most appealing of the players available as a veteran that can play a third pairing role on both sides with a fairly cheap $1.1MM cap hit.  If the team adds someone else in their top-four, they could potentially turn around and flip Benn elsewhere.  It was interesting that the Flyers had to retain on Christian Folin's contract in their trade last weekend to bring him down to the league minimum AAV of $650K.  Considering that the team didn't exactly need the extra cap room, that could at least provide the possibility that they could flip him.  Karl Alzner is certainly available if a team wants to exchange underperforming big contracts but with a $4.625MM cap hit, that's going to be tough.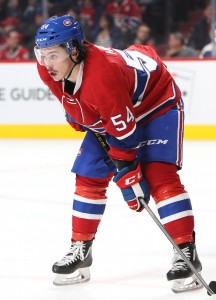 Up front, the Canadiens aren't likely to tinker with more than the fringes of their roster.  They've added a couple of players already in Dale Weise and Nate Thompson which has already put winger Charles Hudon's future with the team even more in question.  His agent stated earlier this season that while Hudon would like to stay in Montreal, he'd also like to play regularly which, despite collecting 30 points in 72 games last season, doesn't appear to be likely when the team is fully healthy.  With a $650K cap hit, he could be an intriguing buy-low candidate for a cap-strapped team and it appears the asking price has been set at a mid-round draft pick.
Five Players To Watch For: D Jordie Benn, D Christian Folin, F Charles Hudon, G Charlie Lindgren, D Mike Reilly
Team Needs
1) Left Side Defense: The Canadiens have been lacking a top-pairing left-shot defender since Andrei Markov left and while Victor Mete, Mike Reilly, and Brett Kulak have all played well at times, that left side is not the making of a contender.  Finding someone that can be counted on to log considerable minutes would really give them a safety net for their postseason push while potentially elevating the play of Shea Weber or Jeff Petry as well.
2) Power Play Help: Although Montreal is in the middle of the pack when it comes to scoring, their power play has been an issue all season long.  That shouldn't come as much of a surprise considering they dealt their two top natural scorers in the offseason but finding a way to upgrade their play with the man advantage would certainly help their chances.  Accordingly, it wouldn't be shocking to see them try to bring in a second-line winger with a track record of success on the power play.
Photo courtesy of USA Today Sports Images.