With the trade deadline fast approaching, we will be taking a closer look at the situation for each team over the coming weeks.  Where do they stand, what do they need to do, and what assets do they have to fill those needs?  Next up is a look at the Anaheim Ducks.
While they don't really play the most exciting of styles, the Ducks have been a fascinating team this season.  They were one of the surprises of the early going despite several key injuries.  However, they are in a massive tailspin at the moment having won just twice since mid-December.  The expectation is that something has to give and that it's a matter of if, not when it happens.
Record
21-25-9, seventh in the Pacific Division
Deadline Status
Moderate Seller
Deadline Cap Space
$1.198MM in a full-season cap hit, 0/3 used salary cap retention slots, 48/50 contracts per CapFriendly
Upcoming Draft Picks
2019: ANA 1st, ANA 2nd, ANA 4th, ANA 5th, ANA 6th
2020: ANA 1st, ANA 2nd, ANA 3rd, ANA 4th, ANA 5th, ANA 6th, ANA 7th
Trade Chips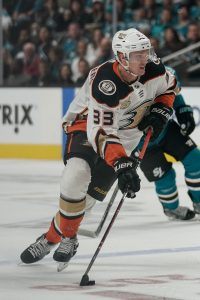 Strictly based on their position in the standings, it's likely that GM Bob Murray will be open to moving most of their pending unrestricted free agents.  Winger Jakob Silfverberg will attract the most interest as even though he isn't picking up a lot of points, he has a very strong track record of postseason success and can hold his own in a defensive role as well.  Between that and being able to play on both wings, he will have numerous suitors.  However, Silfverberg has already indicated his preference is to remain with Anaheim and talks regarding an extension are believed to have gone well so far.  With that in mind, any move involving the 28-year-old will likely come much closer to the deadline.
Defense has been an area of strength for the Ducks for several years and while their depth has taken a hit compared to what it once was, their top four is still pretty strong.  Many teams will be calling about the availability of Cam Fowler, Hampus Lindholm, Brandon Montour, and Josh Manson.  If one of them is to be made available, Anaheim could get a significant return.  At the lower end of the scale, pending Group Six UFA Andy Welinski is an intriguing under the radar candidate.  He has held his own in a third pairing role when called upon and even got a sniff of postseason action last season.
In terms of controllable forwards, it's unlikely that their top players will be made available.  However, one depth piece that could attract some interest is Carter Rowney.  He's a fourth liner that can play both center and the wing and has a Stanley Cup title under his belt with Pittsburgh.  He has two years left on his deal at a manageable cap hit of just over $1.1MM which would be affordable for most contenders.  They'd likely want to get out of Patrick Eaves' deal given his troubles staying healthy this season but that might require moving another asset to get a team to take on his $3.15MM for next year.
Five Players To Watch For: F Brian Gibbons, G Chad Johnson, F Carter Rowney, F Jakob Silfverberg, D Andy Welinski
Team Needs
1) Scoring: On paper, the Ducks aren't a bad team up front.  However, this hasn't translated to much success offensively as they are dead last in the league in scoring.  It's hard to win when you're barely averaging 2.25 goals per game, no matter how good John Gibson plays (and even he has struggled as of late).  If Murray opts to make a move to try to shake up the core, expect that adding offense will be the primary focus.
2) Cap Space: In the short-term, Anaheim doesn't have much room to make an addition of consequence without matching salary the other way.  Long-term, they have over $70MM tied up in just 14 players for next season.  Even if the Upper Limit goes up a few million as expected, that doesn't leave them with much room to work with to fill out their roster and even less so if they can re-sign Silfverberg.  Finding a way to shed some salary for 2019-20 needs to be an immediate priority for the Ducks.
Photo courtesy of USA Today Sports Images.