If there's a team that has been more frustrating to watch this season than the Anaheim Ducks, it's hard to find. The club started the season with plenty of hope and visions of a playoff spot, but have struggled almost right from the beginning. At one point John Gibson was almost single-handedly keeping the team afloat in the Western Conference playoff picture, but now after a stretch of 15 losses in 17 games the Ducks find themselves dropping rapidly towards the bottom of the standings. With that kind of performance any team would begin to be the speculation of trade talk and Anaheim is no different.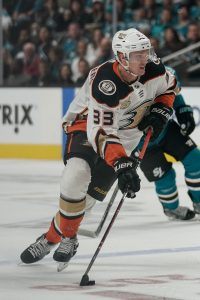 In his column today, Pierre LeBrun of The Athletic (subscription required) notes that the Ducks are listening on many of their players, but singles out one in particular as a potential building block. Jakob Silfverberg, the team's most prominent pending unrestricted free agent, has made some progress with the Ducks on a new contract. LeBrun reports that the team will try to get him under contract in the coming weeks, or would be forced to move him at the deadline.
Silfverberg has long been an interesting rental name, given his effective two-way play and relatively low cap hit. The 28-year old winger carries just a $3.75MM hit for the rest of this season, and has recently returned healthy to the lineup. A former 20-goal scorer, Silfverberg has 12 goals in 43 games this season but is still one of the better defensive wingers in the game. He has received Selke Trophy votes for the past three seasons, and can be used in various situations.
Still, there should be at least some hesitation by the Ducks in regards to an extension. The team still has plenty of money tied up for next season in their core, and obviously have work to do in order to get them back to Stanley Cup contender status. While some may point to the devastating injuries the team has suffered, the idea of them experiencing perfect health going forward is a fantasy given the struggles many of their best players have had staying on the ice.
There is help coming in the form of young forwards like Max Comtois, Sam Steel, Max Jones, Isac Lundestrom and others, the return for Silfverberg might only help that next wave be even more dominant. LeBrun writes that GM Bob Murray wants to "re-tool his roster big time" but it's unclear how he'll go about that if he's signing veteran middle-six wingers to extensions in a frustrating season.
Photo courtesy of USA Today Sports Images