The Vancouver Canucks have had a goaltending problem since trading Anders Nilsson. No, it's certainly not the play of Jacob Markstrom who was remarkable earlier this week in a win over the Florida Panthers, stopping 23 of 24 shots. It's not with Thatcher Demko either, who has still yet to start a game in the NHL this year but is one of the better goaltending prospects in the league. It's that there was no one behind those two.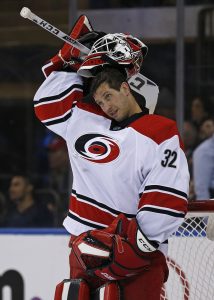 Mike McKenna, the goaltender that Vancouver received in return from the Ottawa Senators was almost immediately lost on waivers, and minor league netminder Richard Bachman is out long-term with an injury. That left exactly two healthy goaltenders under NHL contracts in the Vancouver organization, and a huge hole with the Utica Comets of the AHL. Today, that hole in Utica was plugged temporarily. The Comets signed veteran goaltender Michael Leighton to a professional tryout contract, giving them an experienced professional to throw into the crease for the time being.
This is clearly not a long-term solution for Vancouver, who couldn't call up the 37-year old Leighton if they needed to without first signing him to an NHL contract. Even then, asking a goaltender who hasn't played regularly in the NHL since 2010 would be foolhardy, especially with the Canucks still holding onto an outside chance at the playoffs this season. There obviously has to be another move coming to address the lack of depth, but for now at least there is a goaltender to rely on at the AHL level.
Photo courtesy of USA Today Sports Images