The Toronto Maple Leafs need help on the right side of their defense. The Carolina Hurricanes have a surplus of right-handed defenders. That match has been obvious for so long that trade speculation has run through basically every single potential move, and yet no move has actually been completed. Still, the speculation will continue today after Darren Dreger of TSN reported that the Maple Leafs had management members at the Carolina-Calgary game last night scouting the available defensemen—though he makes no mention of who those defensemen may be.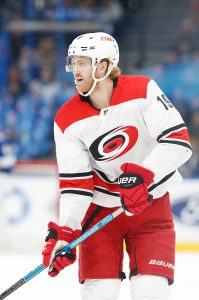 For that you have to look at the recent reporting from other sources, ones like Pierre LeBrun of The Athletic who recently wrote that the Hurricanes are willing to move a top-four defenseman before the deadline. Any of Dougie Hamilton, Brett Pesce or Justin Faulk could be considered top-four options (despite the obvious nature that not all three right-handed defensemen can technically be in the top-four), and any would fill a need for the Maple Leafs who have been searching for another quality option on the right side for some time. It's no surprise that the team is watching Carolina closely, but there still isn't any reporting that a deal is imminent between the two clubs.
There's plenty of reasons why that may be the case. For one, the Maple Leafs don't necessarily have a top-six forward to hand over given their recent struggles. William Nylander hasn't yet been able to find his form since signing a big contract, and the team has now decided to put Auston Matthews and Mitch Marner together in order to try and spark something on offense. Add in that rookie Andreas Johnsson is dealing with a concussion and Patrick Marleau has taken a clear step backwards and the Maple Leafs might not be so quick to be trading away from their forward group at this point.
A top-six forward is what the Hurricanes have been looking for according to all reports, and not just a prospect that may contribute that kind of production in the future. The Hurricanes are now sitting just six points out of a wild card spot in the Eastern Conference and have made it clear that they want to win sooner rather than later with new owner Tom Dundon at the helm. Given that they're probably going to have to trade away Micheal Ferland—currently second on the team in goals—if they can't come to an extension in the next few weeks, adding future assets for their defensemen doesn't really make sense if their target is the 2019 playoffs.
Teams break for the All-Star weekend after tonight's games, and both Carolina and Toronto will also experience their CBA-mandated "bye week" after the festivities are over. That gives both clubs ample time to asses their rosters and determine what exactly they need to do moving forward. You can bet that as the calendar turns to February there will be more contact between the two teams, and more speculation from everyone else.