The Chicago Blackhawks have already told other NHL teams that they're open to moving rentals like Chris Kunitz and Marcus Kruger, but now another forward might be available. John Hayden, who signed a two-year extension with the Blackhawks last June, is receiving interest from around the league according to Scott Powers of The Athletic (subscription required). Powers' source believes that Chicago is seeking a prospect or draft pick for the young forward, which makes sense given their struggles this season and eye on the future.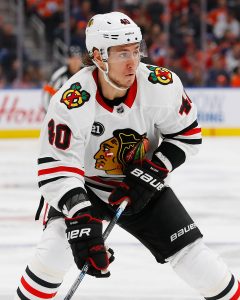 Still, it's somewhat surprising that they would want to move a 23-year old forward signed for just $750K in the first place. Hayden obviously hasn't brought much in the way of offense since debuting with the Blackhawks in 2016-17—he has 20 points in 94 games including just three this season—but he also doesn't hurt a cap situation that is always of concern for the team. In fact his $750K cap hit will be just $50K more than the league minimum salary next season after it increases to $700K for NHL players. If the Blackhawks believe in Hayden's ability to be an effective bottom-six contributor (something that is far from certain) he would be the perfect inexpensive option.
Perhaps the team is hoping to get something of real value out of the young forward though, knowing that they are not likely to go to arbitration with him following the 2019-20 season when he will become a restricted free agent once again. If someone is willing to part with an asset at this point, the Blackhawks can use every little bit of help moving forward as they try to build up the next wave talent. Hayden is also waiver eligible, meaning if they want to give any other young players an opportunity down the stretch they could potentially lose him for nothing.
Photo courtesy of USA Today Sports Images