One of the best faceoff men in history has decided to hang up his skates. Today veteran forward Antoine Vermette has announced his retirement from the NHL, though he hadn't played at all this season.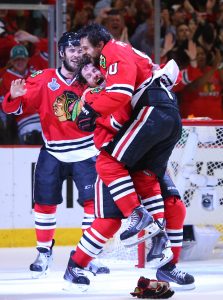 Vermette, 36, had expressed interest last spring in playing again, but explained that he didn't want to go overseas and instead hoped to land a job closer to his family. At one point in free agency there were reports that the center had interest from several teams, but his market seemed to vanish quickly throughout the offseason. Training camp came and went without a contract, and now Vermette has officially decided to call it quits.
He'll finish his career with 1,046 career regular season NHL games, quite a feat for a second-round pick out of the QMJHL. Once a top scorer in junior, Vermette actually entered the professional ranks with a more offensive-minded game than the role he eventually fell into. In fact, the young pivot dominated the AHL during the early part of his pro career, recording seasons of 62 and 73 points for the Binghamton Senators. Jumping to the NHL full-time after the lockout, he posted his first 20-goal season in 2005-06, a threshold he would cross three more times in his career.
While his career-high of 65 points in a single season is impressive, Vermette will be remembered most for the incredible two-way center he became in the second half of his career. Very few players could be trusted more with an important draw than Vermette, who finishes his career with the 14th most faceoff wins in NHL (recorded) history and a career 56.6% win percentage in the circle.
That reliable presence led to a trade to the Chicago Blackhawks in 2015, who were looking for another faceoff ace down the middle. Though he'd put up just three points in 19 games down the stretch, Vermette would be a key part of the Blackhawks Stanley Cup run. Scoring key goals—including three game-winners—and being his usual dominant self in the dot and defensive end, Vermette would lift the Cup for the first and only time in his career.
Not only did his career have excellent highlights, but basically every person who has interacted with Vermette over the years speaks highly of the person off the ice. He'll finish a 14-year career with 515 points.
Photo courtesy of USA Today Sports Images