With now less than two weeks remaining before the December 1st deadline for signing restricted free agents, the pressure is on in Toronto to come to a conclusion with William Nylander. While there seems to be a growing feeling that the team will not cave even if it means having him sit out the entire season–Nylander must sign by December 1st or be deemed ineligible to play at all this year—other front offices are surely circling like vultures waiting for an opportunity to acquire the young forward.
The Carolina Hurricanes have long been considered a team that will show immediate interest if Nylander is truly put out for sale, but others including the Vegas Golden Knights, Philadelphia Flyers and New York Rangers have been linked, however tenuously, throughout the process. The latter's interest is confirmed by Larry Brooks of the New York Post, who writes that while they should not be considered front-runners they also shouldn't be ruled out just yet.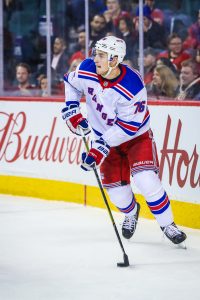 In fact, Brooks argues that the potential ask of young defenseman Brady Skjei in return should not deter the Rangers from pursuing Nylander at all. Though he discusses how Skjei doesn't match exactly what the Maple Leafs are rumored to be looking for, he also points out that the Rangers shouldn't back away from the table if his name is brought up. The 24-year old defenseman was recently scratched by the team after struggling this season, and hasn't been able to quite replicate his outstanding 2016-17 rookie season so far.
If any team in the league is serious about prying Nylander away from the Maple Leafs, it will likely take an elite talent that can step into the Toronto lineup immediately. While defense—especially right-handed defense—remains the most obvious need, it's not clear exactly what GM Kyle Dubas and the rest of the front office has in mind if they do make a deal. Reports have surfaced that they've asked teams to indicate who they wouldn't trade, but very little has come out about the players who have been offered, if it has come to that at all.
It's now November 18th, and the Maple Leafs are among the league leaders in several categories while finding themselves near the top of the Atlantic Division. Things have gone smoothly so far for them, but it's getting down to crunch time on one of the biggest decisions of the year. You can bet the Rangers aren't the only team hoping they make the call to sell.
Photo courtesy of USA Today Sports Images