Coming into the season, one of the trendy dark horse picks for the Vezina Trophy was Antti Raanta. The Arizona Coyotes goaltender had put together an incredible second half in the 2017-18 season to finish with a .930 save percentage, and statistics were being thrown around comparing him to some of the game's best. Sure, he hadn't proven it over a long period of time, but what's fun about predictions if you don't go out on a ledge?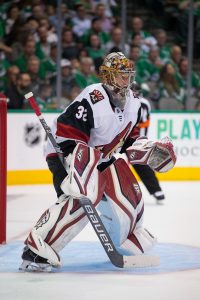 Even the most ardent Raanta supporters though knew that he needed to stay healthy in order to achieve that success, something that he hadn't been able to accomplish since being traded to the desert. The 29-year old played just 47 games for Arizona last season, a number that was sure to increase if he could stay off the trainer's table and on the ice. That hasn't happened so far, as Raanta missed a game after being pulled in warm-up earlier this year and has now been placed on injured reserve as he deals with his latest minor injury. The move was made last night according to Craig Morgan of The Athletic, and is retroactive to November 6th. That means Raanta is ineligible to play until November 13th, missing at least three games.
Being held out for a few days isn't the end of the world, especially because the Coyotes do have a capable backup goaltender in Darcy Kuemper. Arizona though expects to compete for the playoffs this season, and to do that need their star goaltender in net more often than not. No matter how well Kuemper does in relief, Raanta is the biggest key to the season for the Coyotes and will have to be monitored even more closely for the rest of the season. Hunter Miska was recalled from the minor leagues under emergency conditions, but could now be changed to a regular call-up given Raanta's injury designation.
Photo courtesy of USA Today Sports Images