With the NHL season now just days away, we continue our look at what each team has done this summer and what to watch for in the year to come. Next up is a look at the Colorado Avalanche.
Last Season: 43-30-9 record (95 points), fourth in the Central Division (lost in the first round of the playoffs to Nashville)
Remaining Cap Space: $12.18MM per CapFriendly
Key Additions: F Matt Calvert (free agent, Columbus), D Ian Cole (free agent, Columbus), G Phillip Grubauer (trade with Washington)
Key Subtractions: G Jonathan Bernier (free agent, Detroit), F Blake Comeau (free agent, Dallas), G Andrew Hammond (free agent, Minnesota), F Nail Yakupov (free agent, SKA St. Petersburg, KHL)
[Related: Avalanche Depth Chart From Roster Resource]
Player To Watch: G Semyon Varlamov – In 2011, Colorado made a deal with Washington to get what they hoped was their goalie of the future in Varlamov.  Seven years later, history repeated itself with the Avalanche bringing in Grubauer from the Capitals to be their new goalie of the future.  Where does that leave Varlamov?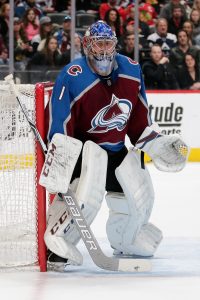 While he remains their highest-paid goalie and could still be their opening night starter, it certainly stands to reason that he isn't in their long-term plans anymore.  Grubauer is going to get a workload that's larger than a typical backup given their commitment to him and that's not going to help Varlamov's free agent case for next summer.
With that in mind, it will be interesting to see if Varlamov is made available during the season (or even requests to be dealt).  There aren't a lot of starting roles projected to be available next summer in free agency so he's not going to want to find himself in a platoon situation (or something close to it).  That's going to put a lot more pressure on him when he is between the pipes as he is basically going to be showcasing himself to the rest of the league whenever he's in the lineup.
Key Storyline: Last year was all about the rebuilding process for the Avalanche, or at least that was the plan.  Instead, the team was the biggest non-expansion surprise in the league and worked their way into the postseason.  GM Joe Sakic stated again after the season that they were planning to stay the course and their offseason movement aside from adding Grubauer was basically shuffling in a couple of different veterans.
That type of long-term thinking is nice in principle but will they remain that patient if there is some regression in the first half of the season?  Colorado has a strong nucleus of young players to work with and could conceivably deal from that to add a player or two to help them now.  Will that temptation to do so be there or will Sakic stay true to his word and stay the course, even if it means taking a small step back just after taking a sizable step forward?
Overall Outlook: At this point, it looks like Nashville and Winnipeg are the class of the Central Division which leaves just one guaranteed playoff spot.  St. Louis has improved and Dallas is going to be in the mix as well but if Colorado's young players continue to progress, they should be in the hunt as well.  However, given everything that went so well last year, it wouldn't be surprising to see them take a small step back either.
Photo courtesy of USA Today Sports Images.