With the NHL season now just a month away, it's time to look at what each team has done this summer and what to watch for in the year to come. Today, we focus on the Philadelphia Flyers.
Last Season: 42-26-14 record (98 points), third in the Metropolitan Division (lost Pittsburgh in the first round of the playoffs)
Remaining Cap Space: $10.28MM per CapFriendly
Key Additions: D Christian Folin (free agent, Los Angeles), F James van Riemsdyk (free agent, Toronto)
Key Departures: F Valtteri Filppula (free agent, NY Islanders), D Brandon Manning (free agent, Chicago), G Petr Mrazek (free agent, Carolina), D Johnny Oduya (free agent, unsigned), F Matt Read (free agent, Minnesota)
[Related: Flyers Depth Chart From Roster Resource]
Player To Watch: F Wayne Simmonds – Simmonds has long been viewed as one of the premier power forwards in the league and he has a couple of things going for him.  For starters, he's fully healthy after playing through a long list of injuries last season.  He also happens to be entering the final year of his contract and currently projects to be one of the more sought-after free agents if he makes it to the open market.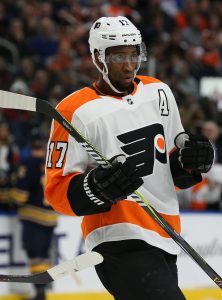 Simmonds is hoping that a healthy season should allow him to get back to the 50-point plateau, a mark he had hit for four straight seasons before 2017-18 (where he had 46 in 75 games).  It will be interesting to see how the return of van Riemsdyk affects things, however.  While the two play on opposite wings, they're both big producers with the man advantage.  Does van Riemsdyk cut into Simmonds' production then?
It will be quite interesting to see what type of deal Simmonds ultimately gets.  The Flyers have engaged in preliminary discussions regarding an extension but obviously, nothing has been done yet.  He has been on a very team-friendly contract with a cap hit just shy of $4MM (although his salary for 2018-19 checks in at $5MM) and he'll undoubtedly be looking for a significant increase.  However, he'll be 31 when 2019-20 begins and players that play a rugged style like he does tend to become injury prone as they get older.  How will that ultimately affect the offers he receives?
At the end of the day, Simmonds can sit back and just focus on playing with the hopes of having a big year but this looming contract situation makes him an intriguing player to keep tabs on in the coming weeks.
Key Storyline: Goaltending has been a question mark in Philadelphia for a long time and this coming season projects to be no exception.  Veterans Brian Elliott and Michal Neuvirth both return and are viewed as short-term stopgaps and not core pieces of the future.  Will they be good enough to get the job done after struggling both in terms of performance and staying healthy last season?
Youngster Alex Lyon could make a push for a roster spot in camp and needs to go through waivers to get back to the minors.  If management believes that he could be claimed, that could force their hand with Neuvirth so their tandem isn't quite set yet.  (Anthony Stolarz is also in the mix but after missing all of last season with an injury, he's a fairly safe bet to pass through waivers.)
The development of Carter Hart is going to be worth monitoring as well.  The 20-year-old is entering his first professional season and is widely viewed as Philadelphia's goalie of the future.  If he gets off to a good start and the Flyers are struggling between the pipes, could he play his way into the mix for a late-season recall?
There are still questions when it comes to goaltending in Philly but there could be some internal answers on the horizon at the very least.
Overall Outlook: The majority of the core is returning and van Riemsdyk should really bolster their attack.  Despite that, it's difficult to peg them as a sure-fire top-three team in the Metropolitan, especially given the questions in goal and their general streakiness they've shown in recent years.  That said, they are still one of the better teams in the East and should be viewed as a top contender for a Wild Card spot as things currently stand.
Photo courtesy of USA Today Sports Images.