With the NHL season now less than two weeks away, it's time to look at what each team has done this summer and what to watch for in the year to come. Next up is a look at the Montreal Canadiens.
Last Season: 29-40-13 record (71 points), sixth in the Atlantic Division (missed the playoffs)
Remaining Cap Space: $7.06MM per CapFriendly
Key Additions: F Joel Armia (trade with Jets), F Max Domi (trade with Coyotes), D Xavier Ouellet (free agency, Detroit), F Matthew Peca (free agency, Tampa Bay), F Tomas Plekanec (free agency, Toronto), F Tomas Tatar (trade with Vegas)
Key Subtractions: F Daniel Carr (free agency, Vegas), F Alex Galchenyuk (trade with Coyotes), F Ales Hemsky (free agency, unsigned), F Max Pacioretty (trade with Vegas), F Logan Shaw (free agent, PTO with Calgary)
[Related: Canadiens Depth Chart From Roster Resource]
Player To Watch: G Carey Price – To put it lightly, last year was not a good one for Price.  He dealt with fatigue issues, a lower-body injury, and a concussion which resulted in him playing in just 49 games.  In those contests, he posted the highest goals-against average and lowest save percentage of his career.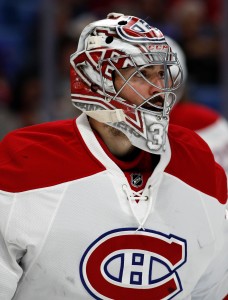 Needless to say, that's not what the Canadiens were expecting when they inked him to an eight-year, $10.5MM extension back in July, the richest contract given to a goalie in league history.  Montreal committed to Price as their franchise player and instead, he provided a performance comparable to a mediocre backup netminder.
Despite the poor season and Montreal's anticipated place in the standings this coming season, expectations remain high.  If Price can rebound, the Canadiens should at the very least be out of the basement in the Atlantic but if he falters again, they'll likely be a cellar-dweller and his contract could become among the worst in the league in a hurry.  Montreal is a pressure-filled market and Price is really going to be under the microscope since the team goes as he goes.
Key Storyline: Montreal's problems down the middle have been well-documented.  Their short-term solution was to take the winger that they acquired last summer and converted to center and move him back to the wing (Jonathan Drouin) to take another winger that they picked up this summer and convert him to center (Domi).  They also added Peca who has all of 20 games of NHL experience and Plekanec, a capable checker that was in the lineup for most of the season but whose role is likely to be lessened.  That's not the significant improvement that they needed.
The Canadiens were near the bottom of the league in scoring last season and dealt away arguably their two top pure scoring threats in Galchenyuk and Pacioretty which has left them with a dearth of natural scoring on the wing.  Long story short, how is this team going to score on a regular basis?  There's a case to be made that they haven't improved their attack which is going to put even more pressure on Price.
However, this is a young forward group.  Plekanec is the lone one over the age of 29 so they are clearly banking on some internal improvement.  Will some players take a step forward to help replace Galchenyuk and Pacioretty?  If not, two of the biggest issues the team had last season (center play and scoring) will likely hold them back again.
Overall Outlook: Assuming Price rebounds even a little bit, Montreal shouldn't be battling it out with Ottawa to stay out of the basement in the Atlantic.  However, they will need a lot to go right for them to really get into the mix for a Wild Card spot.  It's looking like another non-playoff season for the Canadiens although their record shouldn't be as bad as it was last year.
Photo courtesy of USA Today Sports Images.