Navigating the Salary Cap is probably one of the more important tasks for any general manager to have. Teams that can avert total cap chaos by walking the tightrope of inking players to deals that match their value (or compensate for future value without breaking the bank) remain successful. Those that don't see struggles and front office changes.
PHR will look at every NHL team and give a thorough look at their cap situation heading into the 2018-19 season. This will focus more on those players who are integral parts of the roster versus those who may find themselves shuttling between the AHL and NHL. All cap figures are courtesy of CapFriendly.
Current Cap Hit: $70,227,845 (under the $79.5MM Upper Limit)
Entry-Level Contracts
F Brock Boeser (one year, $925K)
F Adam Gaudette (two years, $917K)
F Nikolay Goldobin (one year, $863K)
F Elias Pettersson (three years, $925K)
Potential Bonuses
Boeser: $850K
Gaudette: $850K
Goldobin: $213K
Pettersson: $2.85MM
Total: $4.763MM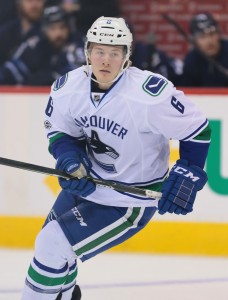 Boeser's first full NHL season was quite the impressive one.  Despite missing 20 games due to injury, he still led the team in goals with 29 and tied for the lead in points with 55.  With the departures of the Sedin twins, this is now truly his team offensively already.  Extension talks are scheduled for this week but Boeser's negotiating leverage is lessened by his overall lack of NHL experience.  With that in mind, unless Vancouver is prepared to go past $6MM per year already, he would be better served playing out next season where similar production would bolster his case considerably.  Regardless of whether it gets done now or a year from now, there's a good chance that Boeser will have the top cap hit in Vancouver for 2019-20.
Pettersson is coming off of a season where he won just about every award he could in the SHL (including Rookie of the Year plus MVP of the regular season and playoffs).  Although they have a logjam of forwards, there's a good chance he starts on the wing inside the top six or gets to that point before long.  Goldobin split last year between the NHL and AHL and while he showed flashes of promise, he has yet to really establish himself in Vancouver.  If he can do that, he should be able to improve on his current AAV but if he struggles, not only does he become a trade candidate but he also is someone that may be asked to take an NHL pay cut (with higher minor league money) on his next deal.  Gaudette was the top scorer in the NCAA last year and got a cup of coffee with Vancouver.  If they really go with a youth movement, he'll be one of the beneficiaries but he could also be an opening roster casualty due to his waiver exemption.
One Year Remaining, Non-Entry-Level
D Michael Del Zotto ($3MM, UFA)
F Derek Dorsett ($2.65MM, UFA)
D Alexander Edler ($5MM, UFA)
F Brendan Gaunce ($750K, RFA)
F Markus Granlund ($1.45MM, RFA)
D Ben Hutton ($2.8MM, RFA)
F Brendan Leipsic ($650K, RFA)
G Anders Nilsson ($2.5MM, UFA)
D Derrick Pouliot ($1.1MM, RFA)
Among the forwards, Granlund is the most notable.  He had a down year in 2017-18, posting just a dozen points in 53 games after collecting 32 points the year before.  The deal he's on (one that was signed back in June) likely equates to a last chance contract.  If he rebounds, he'll play himself into a nice raise with arbitration eligibility but if he struggles, he'll be a non-tender candidate.  Gaunce has failed to live up to his first-round draft billing and will simply be battling to make the roster so a sizable raise isn't likely in the cards.  Leipsic fared quite well after coming over from Vegas with nine points in 14 games.  Competition for a top-six spot is much stronger now, however, so the type of playing time he was getting then is far from a guarantee.  If he can secure a regular roster spot at the very least, he'll land another deal next summer.  Dorsett was forced to call it a career early last season after experiencing continued pain following cervical disc herniation surgery back in 2016-17 but won't formally file his retirement papers until his contract expires.  If Vancouver needs more cap flexibility in-season, he'll be moved to LTIR.
The defensive group is much more interesting.  Edler has been part of trade speculation for a long time now and with his deal now expiring, that will surely intensify if the Canucks get off to a slow start.  When healthy, he's still a capable second or third defender but staying healthy has been a challenge which will greatly affect his next contract.  Because of the injury history, his next deal will probably check in somewhat close to his current one.
Del Zotto has been on short-term deals for most of his career and as he's an offensive-minded depth defender, that probably won't change too much next summer.  He'll need to improve his output if he wants to secure a raise and a little bit of stability on his next contract.  It wasn't long ago that Hutton was viewed as part of Vancouver's long-term future.  However, he struggled considerably last year and the team has been trying to move him but have had to takers thus far.  He projects as a safe bet to be non-tendered at a $2.8MM qualifying offer next summer.  Pouliot wasn't given a qualifying offer back in June to avoid the potential for arbitration but they quickly reached an agreement.  He took some small strides forward last season but this could be a make or break year for him.  Improvement could get him a longer deal but if he struggles, he could be let go as well.
Nilsson was brought in to serve as a bridge to top prospect Thatcher Demko while pushing incumbent Jacob Markstrom for starts.  His performance last season wasn't particularly strong and a repeat of that could have him on the outside looking in on the goalie market next summer.  On the flip side, with the extra emphasis on capable backups, a rebound season could allow him to get close to his current AAV.  Either way though, with Demko expected to be ready for 2019-20, a return to Vancouver for Nilsson isn't likely to be in the cards.
Two Years Remaining
D Alex Biega ($825K, UFA)
F Sam Gagner ($3.15MM, UFA)
G Jacob Markstrom ($3.67MM, UFA)
F Tim Schaller ($1.9MM, RFA)
D Troy Stecher ($2.325MM, UFA)
D Chris Tanev ($4.45MM, UFA)
F Jake Virtanen ($1.25MM, RFA)
Gagner has largely struggled in a top role but has provided capable secondary scoring over the last couple of years.  That's the role he's likely to have with the Canucks moving forward.  That said, he'll have a hard time getting a multi-year deal on his next contract if he hovers around the 25-30 point mark.  Schaller was brought in as part of their somewhat-perplexing strategy to load up on bottom-six forwards this summer.  He had a career year with Boston last year and if he can repeat that in Vancouver, they'll get decent value out of the contract.  Virtanen has struggled with consistency so far which made his bridge contract the expected outcome.  Within the next two years, the team should know if he's part of their long-term plans (which will involve a big raise) or merely a filler in which case, he could be a non-tender candidate with a $1.5MM qualifier in June of 2020.
Tanev is another Vancouver defender that has been part of trade speculation for a while with nothing happening.  He's one of the more well-regarded stay-at-home blueliners in the league but he has a lengthier injury history than Edler which will hurt his market value on his next contract.  Stecher took a big step back last season but his performance in his rookie year was enough to get him this deal.  If he reverts back to his rookie form, this will be a good contract but if not, this could be another Hutton situation.  Biega has some stability in the form of a one-way deal but he's not likely to play much when the team is healthy.
Markstrom's first full year as a starter had some ups and downs but all in all, it wasn't a bad year.  He'll need to build on that if he wants to secure another contract though with Demko coming quickly.  If he can show himself to be a starter, he will have several suitors down the road but if he proves to simply be a platoon player, he'll be looking at a pay cut on his next contract.
Three Years Remaining
F Sven Baertschi ($3.67MM, UFA)
D Erik Gudbranson ($4MM, UFA)
F Brandon Sutter ($4.375MM, UFA)
Sutter has failed to emerge as a top-six center like they were hoping when they acquired him.  He's a capable third liner but they're paying a fair premium for what he brings to the table.  Baertschi was in the midst of a career season but was set back by jaw and shoulder issues.  Despite that, he got some security with this deal and if he maintains a top-six role like he had last year, this should be a good value deal for Vancouver.
Gudbranson is a player whose reputation exceeds his value but that didn't stop the Canucks from locking him up long-term.  He's a capable third pairing player but at this level of pay, they should be getting more for their money.
Four Or More Years Remaining
F Jay Beagle ($3MM through 2021-22)
F Loui Eriksson ($6MM through 2021-22)
F Bo Horvat ($5.5MM through 2022-23)
F Antoine Roussel ($3MM through 2021-22)
Eriksson's deal is one of many ill-fated ones signed back in 2016.  He was a capable top-six player before joining the Canucks but since then, he has been an injury prone player that's better suited to be on the third line.  Beagle and Roussel's deal were among the head-scratchers in free agency that many expect to be ill-fated before long.  Both are better served as fourth line role players but for what they're getting paid, one has to think they'll get larger roles at some point.
On the flip side, Horvat's deal is a better one.  While he's their top center by default, he's more of a number two in a perfect world but at that cap hit, it's still a good value contract.  His output is expected to grow down the road while he is already capable of playing a top defensive role as well.  This should be a good contract on their books for the life of the deal.
Buyouts
None
Retained Salary Transactions
G Roberto Luongo ($800K through 2021-22)
Still To Sign
None
Best Value: Horvat
Worst Value: Eriksson
(Excluding entry-level contracts)
Looking Ahead
Despite having so many players pushing for a roster spot for next season, the Canucks have plenty of financial flexibility for 2018-19.  Boeser's deal is the only one coming up that is going to require a substantial raise so they are in good shape for the future as well.  Potential cap recapture for Luongo is a possibility if he decides to retire but with these players hanging around on LTIR instead of retiring, it's not as much of a long-term threat as it could be otherwise.
Photo courtesy of USA Today Sports Images.