Navigating the Salary Cap is probably one of the more important tasks for any general manager to have. Teams that can avert total cap chaos by walking the tightrope of inking players to deals that match their value (or compensate for future value without breaking the bank) remain successful. Those that don't see struggles and front office changes.
PHR will look at every NHL team and give a thorough look at their cap situation heading into the 2018-19 season. This will focus more on those players who are integral parts of the roster versus those who may find themselves shuttling between the AHL and NHL. All cap figures are courtesy of CapFriendly.
Current Cap Hit: $73,365,833 (under the $79.5MM Upper Limit)
Entry-Level Contracts
F Troy Terry (two years, $925K)
Potential Bonuses
Terry: $850K
Terry joined Anaheim late last season after his college season at the University of Denver where he was one of the more prolific point producers in the NCAA.  The Ducks didn't give him much playing time down the stretch but he was with the team for their postseason appearance before suiting up at the World Championships with Team USA.  He could start in the minors but Terry is likely to make an impact at some point during the season.
One Year Remaining, Non-Entry-Level
F Brian Gibbons ($1MM, UFA)
D Korbinian Holzer ($900K, UFA)
G Ryan Miller ($2MM, UFA)
D Luke Schenn ($800K, UFA)
F Jakob Silfverberg ($3.75MM, UFA)
D Andrej Sustr ($1.3MM, UFA)
Silfverberg hasn't really been able to emerge as a high-end offensive player like Anaheim has been hoping for but he has still been a quality middle-six winger.  GM Bob Murray has expressed an interest to sign him long-term but they may have a hard time doing so with the amount of money already committed.  Gibbons went from being a full-time minor leaguer to a productive forward with the Devils, playing at a 36-point pace.  If he can come even close to that, Anaheim will get solid value from his addition.
Sustr signed early in free agency to provide a potential upgrade on the right side of the third pairing.  Schenn also signed early on to compete for that role and both are making reasonable money for depth defenders.  Holzer is likely to serve as a reserve player that they are comfortable running through waivers if they need a roster spot.  It's unlikely that he'll be able to land another one-way deal next summer.  Miller was brought in last summer to give them some better insurance in the number two role and he certainly provided that.  At the age of 38, he's a possibility to retire following next season but if he hits the open market, he should have several suitors which makes a comparable contract to this one a realistic possibility.
Two Years Remaining
F Patrick Eaves ($3.15MM, UFA)
D Brandon Montour ($3.88MM, RFA)
Eaves made a big impact upon being acquired in 2016, scoring 11 goals in just 20 games to help him land his current contract.  However, he missed almost all of last season with Guillain-Barre Syndrome.  He's expected to be healthy for the upcoming season and if he can pick up where he left off, he'll give Anaheim a much-needed boost in their secondary scoring.
Montour finished off his first full NHL season in 2017-18 and he has quickly become a go-to member of their back end.  They weren't able to agree on a long-term deal this summer and went the bridge route instead but if he continues at this pace over the next couple of years, he could easily add another $2MM or more on his next contract.
Three Years Remaining
F Andrew Cogliano ($3.25MM, UFA)
F Ryan Getzlaf ($8.25MM, UFA)
F Ondrej Kase ($2.6MM, RFA)
F Corey Perry ($8.625MM, UFA)
F Carter Rowney ($1.133MM, UFA)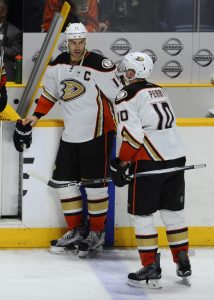 Getzlaf was never the fastest player on the ice and has slowed down lately but that hasn't stopped him from being one of the premier playmakers in the league over the last several years.  His all-around game allows him to be used in all situations.  As a result, while his contract is a pricey one, Getzlaf is still giving Anaheim good value on his deal.  Perry has produced more like a second line player over the last couple of years and is also starting to slow down.  He still is an imposing presence at times but it's fair to say he's entering the downswing of his career which makes this deal a tough one to have on the books.
Kase was a pleasant surprise for the Ducks last season, going from a depth piece to tying for second on the team in goals.  He just signed this bridge contract and if he can even come close to the 20-goal mark each year, they'll get a good return here.  If he continues to improve though, this could be a big steal.  Cogliano has been very consistent in his time with Anaheim and while he isn't a great fit in the top six, he's a high-end third line player whose speed still makes him quite effective.  If the team has to start trimming payroll down the road though, his deal is one that could be moved.  Rowney played a sparing role with Pittsburgh but still curiously managed to secure a three-year term.  He'll battle for a fourth line spot but could be a roster casualty as younger players emerge.
Four Or More Years Remaining
D Cam Fowler ($6.5MM through 2025-26)
G John Gibson ($2.3MM in 2018-19, $6.4MM from 2019-20 through 2026-27)
F Adam Henrique ($4MM in 2018-19, $5.85MM from 2019-20 through 2023-24)
F Ryan Kesler ($6.875MM through 2021-22)
D Hampus Lindholm ($5.206MM through 2021-22)
D Josh Manson ($4.1MM through 2021-22)
F Rickard Rakell ($3.789MM through 2021-22)
Kesler, when healthy, is still a capable second line center.  However, he has had trouble staying healthy as of late and there are questions about how much he'll be able to contribute for next season already.  That certainly played a part in Henrique getting locked up early – he can serve as a number two with Kesler out while giving them a solid group when everyone is healthy.  Rakell wound up holding out into the 2016-17 season to get his current deal but considering he has emerged as their top goal scorer, this has become a very team-friendly contract already.
Fowler still hasn't made it back to his rookie season production but his all-around game has come a long way since then.  After being more of an offense-first defender early on, he has blossomed into a legitimate top pairing defender that is on a pretty good contract.  Lindholm took a step forward in his offensive game last season which has given the Ducks a rather productive second pairing as well.  Manson has largely flown under the radar but is a solid, physical player in his own end that has improved his two-way game lately.  Anaheim has a fair bit of money committed to these three but they are the backbone of a strong defense corps.
Buyouts
D Simon Despres ($663K per year payable through 2024-25; cap-exempt per CapFriendly)
D Mark Fistric ($450K in 2018-19)
Retained Salary Transactions
None
Still To Sign
Best Value: Rakell
Worst Value: Kesler
Looking Ahead
Things don't look too bad for Anaheim for the upcoming season as they should have plenty of room to re-sign Ritchie and still have some wiggle room.  That's the good news.
The bad news is that they are in a tough spot for 2019-20 and beyond.  The Ducks presently have over $69MM tied up in 14 players for that season with Ritchie still unsigned.  While they may want to extend Silfverberg, there's no way they can afford to do so without shedding some salary first.
The silver lining to this is that there aren't many big contracts to deal with for the foreseeable future as the majority of their core is locked up for the long haul.  Aside from some roster tweaks to try to free up a little cap room, this Anaheim team will likely remain largely intact for quite a while.
Photo courtesy of USA Today Sports Images.