The Tampa Bay Lightning once again found enough cap space this summer to retain some of their most impressive talent, signing restricted free agent J.T. Miller to a five-year contract and getting Nikita Kucherov and Ryan McDonagh under long-term extensions. The team incredibly is still positioned with more than $2.6MM in cap space for 2018-19 with their whole roster signed, and project to have enough to extend Brayden Point next summer. Even with that savvy salary structuring though, the team would have had to move a cap hit out if they were to actually acquire someone like Erik Karlsson, who they had been rumored to be in talks for earlier this summer. That cap hit was likely going to be Ryan Callahan given the uncertainty surrounding his future and hefty $5.8MM AAV.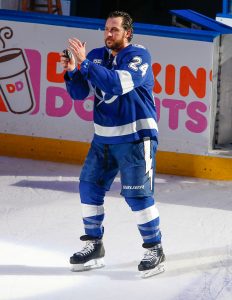 The 33-year old Callahan returned from two hip surgeries to play in 67 games for the Lightning in 2017-18, recording 18 points and bringing his trademark work ethic and leadership. Unfortunately last season brought another injury, this time to his shoulder which would require surgery once again. The forward went under the knife on May 31st, and was given a five month timetable. He's doing just fine on that schedule, as Bryan Burns of NHL.com reports that Callahan was back on the ice today with teammates doing some skating drills and stickhandling.
While Callahan admits he still likely won't be back in game action until November, the simple fact that everything is on track is a big deal for the Lightning—though it could be perceived in different ways. Callahan's full no-trade clause changed to just a 15-team no-trade list this summer, giving Tampa Bay the opportunity to move his cap hit if they feel it necessary. It's possible that there would have been more teams willing to take the remaining two years on if Callahan was scheduled to hit long-term injured reserve, though his actual salary is still a hefty $4.7MM in each year with no signing bonuses that the Lightning could pay out.
Now they will hope that he returns at full strength in November and shows that he can still at least be a useful player, and perhaps they'll be able to find a buyer at some point. All this is predicated of course on the idea that the Lightning will be looking to add more salary through trade at some point, which isn't guaranteed given their already deep lineup. Perhaps they'll just hold on to Callahan for his leadership and hope he can take a step back in the right direction offensively, given that he isn't coming off hip surgery this time around.
Photo courtesy of USA Today Sports Images