One of the greatest power forwards to ever play in the NHL has officially called it quits today, as Jarome Iginla hangs up his skates for the last time as a member of the Calgary Flames. Though he hadn't played professionally in over a year, today still marks the end of what has been an incredibly productive career for the 41-year old, who will finish up with 1,554 regular season games and 1,300 career points.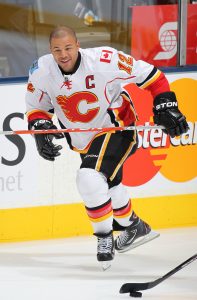 Though many remember him most as a young player for the Flames, Iginla was actually originally drafted by the Dallas Stars in 1995. Before he ever suited up in a professional game, he was already included in a deal for Hall of Fame forward Joe Nieuwendyk, who had won a Stanley Cup with the Flames but was embroiled in a contract dispute. Nieuwendyk would go on to help the Stars to another Cup in 1999, while Iginla would become one of the greatest Flames of all-time. In his first season during the 1996-97 season he scored 21 goals and was the runner-up to Bryan Berard—the first-overall pick from 1995—for the Calder Trophy as the league's best rookie. Those 21 goals were a sign of things to come, as Iginla would go on to score 504 more  in a Calgary uniform (532 including playoffs) and 625 (662) in his entire career.
Scoring goals was a huge part of Iginla's game, but there was so much more to the Calgary forward. A physical specimen who seemed to never tire, Iginla would continually punish defenders with his physical play and protect the puck all over the ice. Willing to drop his gloves to protect a teammate or spark his club, the eventual captain of the Flames was feared for his hands whether they had a stick in them or not. Even in a sport that has had an incredible history of tough players, Iginla was unique in his approach. He twice led the NHL in goal scoring, and won the Art Ross trophy as the league leader in points in 2001-02. He would be named a Hart Trophy finalist multiple times, and was the Flames MVP for more than a decade.
Outside of his on-ice accomplishments though, Iginla was a beloved player off the ice as well. Though opponents would not ever want to face him, he was almost universally respected by the hockey world and extremely popular among fans all over the world. Countless former teammates have told stories over the last few days about Iginla's generosity towards fans, recalling times when he would be still signing autographs long after the rest of the team had left. In Canada, a country for who Iginla won two Olympic gold medals, he was one of the faces of a generation of hockey players that took over after the Wayne Gretzky and Mario Lemieux years. That was no more apparent than when he set up Sidney Crosby for the "Golden Goal" in the Vancouver 2010 Olympics, once again battling physically in the corner to retrieve a puck and get it to a teammate in a dangerous location.
In the latter part of his career, Iginla bounced around the league trying to find a fit and bring home a Stanley Cup. Playing for Pittsburgh, Boston, Colorado and Los Angeles, Iginla would continue to find a way to score goals but never did bring home the elusive chalice. Though he'll go down as one of the best players in NHL history to never win a Stanley Cup, he did find success at so many other levels. In addition to the two Olympic gold medals, Iginla won two Memorial Cups, and gold at the World Juniors, World Championships and World Cup.
There are few players who can truly be called unique in the game of hockey, and Jarome Iginla is one of them. Today he finished his professional career with the Calgary Flames and it won't take long for him to get into the Hall of Fame.