Frank Seravalli and TSN regularly maintain a "Trade Bait" board around the most active parts of the year, and on the first edition of it today there were some surprising names. Erik Karlsson of the Ottawa Senators tops the list as he closes in on a potential extension on July 1st, while superstars like Phil Kessel, P.K. Subban and Oliver Ekman-Larsson take up residency further down.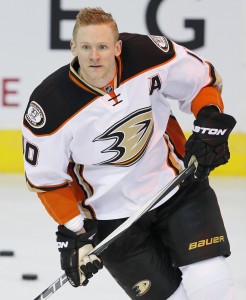 At the very bottom of the list there is an interesting name that hasn't been in many trade rumors over the years, and that's Corey Perry of the Anaheim Ducks. In his explaining paragraph, Seravalli notes that Anaheim asked Perry for a list of teams he'd accept trades to, given that he holds a full no-movement clause and could block any deal the team tried to make. Whether he gave them that list or anything progressed further isn't explained, but just the fact that he was asked brings up more questions.
Perry isn't the same player he was when he took home the Hart Trophy in 2011, but with 49 points last season is still an effective enough offensive weapon to be useful to someone. The question is if that's still Anaheim, as the Ducks are looking for a way to find a way to change up their group and get back to really contending for the Stanley Cup. Perry of course is owed a huge $8.625MM cap hit the next three years, drastically limiting the number of teams who could even afford to bring him aboard.
The Ducks would need to eat some of the salary and convince Perry to waive his no-movement clause, but there's at least reason to believe that's a possibility now. We'll need to keep an eye on Anaheim this summer to see if they'd really be willing to trade one of the most notable players in their team's history, or whether this was all just part of normal negotiations during the season.
Photo courtesy of USA Today Sports Images