Rick Nash would be open to continuing his tenure with the Bruins. The impending free agent told Matt Kalman of NHL.com that he'd consider a return to Boston.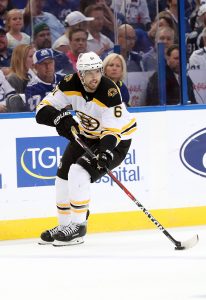 "It was disappointing with having the concussion and having some effects during it and only playing a certain amount of games and then coming back for the playoffs," Nash said Wednesday. "But everything was positive. The organization was great, the guys were awesome, so it was a great chapter here and hopefully it can continue."
The 33-year-old was acquired by the Bruins in February, with Boston sending the Rangers a 2018 first-round pick, a future seventh-rounder, defenseman Ryan Lindgren, and forwards Ryan Spooner and Matt Beleskey. Nash went on to appear in 11 regular season games for the Bruins, compiling three goals and assists. He added another five points (three goals, two assists) in 12 playoff games. He ended up missing 12 regular season games due to a concussion.
Nash is hitting free agency for the first time since 2009, when he inked an eight-year, $62.4MM with the Blue Jackets. The veteran has been traded twice since signing that contract, but he still admitted that winning was his top priority heading into free agency.
"Obviously to win, that's No. 1," he said. "No. 2 is a good place to live, a good place that my family enjoys. And Boston's been great. It's been a pretty seamless transition for us, so everything was positive."