Michal Kempny will not face suspension for his cross-check of Cedric Paquette in last night's Washington-Tampa Bay game, but will get some supplemental discipline. The Department of Player Safety has decided to fine Kempny $2,419.35, the maximum amount allowed by the CBA, for the incident. Kempny was penalized on the play, in which his stick caught Paquette in the face as he was trying to box him out from the front of the net.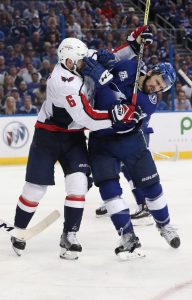 Notably, a very similar play with Winnipeg Jets' defenseman Josh Morrissey earlier in the playoffs did rise to the level of a suspension. In that case, the cross-check was explained as "not a routine motion to box out an opponent" which perhaps is the difference in decisions.
Kempny will not be forced to sit out any action for the Capitals, but the fine will go into consideration in any future reviews from the DoPS. He'll have to operate under increased scrutiny, but it's a worthwhile trade-off for a team that has relied on Kempny as a solid midseason addition to their blue line. The teams will return to action tomorrow night in Washington.
Photo courtesy of USA Today Sports Images