To say that the 2017-18 season didn't go well for the Dallas Stars would be an understatement.  Buoyed by a deep attack and the addition of Ben Bishop between the pipes, they were a trendy pick to have a long postseason run but instead, they're on the outside looking in at the playoffs and on the market for a new head coach for the second straight year.
Leading the list of underachievers was center Jason Spezza.  He was expected to lead their second line, even with the addition of Martin Hanzal (who spent more than half the season on injured reserve due to a litany of injuries).  They had even tinkered with the idea of having him spend some time on the wing to ensure he'd still see lots of ice time in scoring situations.
Suffice it to say, none of that turned out as planned.  He posted just 26 points (8-18-26) in 78 games; his 0.33 points per game average was by far the lowest of his career.  Accordingly, his ice time also plummeted by more than three minutes per game to just 13:00.  The only time he averaged less than that was his rookie campaign back in 2002-03.  In other words, not a whole lot went well for him.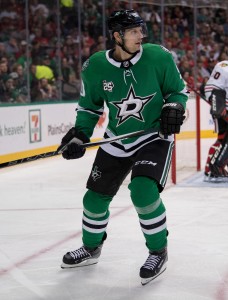 Spezza will be entering the final year of his contract next season but he carries a hefty price tag at $7.5MM in both cap hit and salary.  They certainly didn't receive good value on that deal this year and as a result, he is an early speculative candidate for a buyout in June.  Doing so would cost them $2.5MM against the salary cap for the next two years.
If that was to happen, Dallas would free up an additional $5MM in cap space to work with this offseason and with the team having over $57MM committed to just 13 players for next year per CapFriendly (a total that includes Spezza), they could certainly use the extra flexibility.  However, that extra $2.5MM on the books for 2019-20 may make things a bit trickier as they try to get a new deal in place for top center Tyler Seguin who is eligible for unrestricted free agency following the 2018-19 campaign.
Of course, this isn't the only option for the Stars.  They could opt to keep Spezza in the fold and hope that 2017-18 was an outlier and with a new coach behind the bench, maybe he reverts to his form from recent seasons.  Regardless of how much he struggled, his body of work over 15 years in the NHL suggests that he is certainly capable of playing better next season.
Alternatively, they could look to trade Spezza and retain on the contract.  They would be able to hold back up to 50% ($3.75MM) and while that would lessen their potential savings next year on a buyout, there wouldn't be any carryover to 2019-20 either.  If Dallas looks to go that route, it's worth noting that Spezza has a ten-team no-trade list.
Which route is the best for the Stars to take when it comes to Spezza?  Should they keep him and let him play out his deal, try to trade him with some retention on his contract, or buy him out in the summer?  Have your say by voting in the poll below.
Mobile users, click here to vote.
Photo courtesy of USA Today Sports Images.