Like his teammates Nic Hague and Micheal McLeod yesterday, Mississauga Steelheads forward Owen Tippett has been assigned to the AHL after his OHL playoff run came to an end. Tippett, who spent the start of the season playing seven games for the Florida Panthers, will ply his trade at the minor league level for the time being.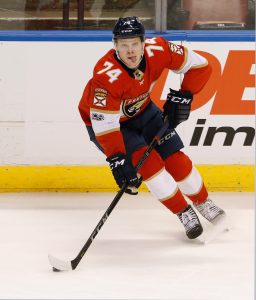 Tippett was selected 10th-overall last June after he had exploded for a 44-goal season and was routinely showing off his elite shot in the junior ranks. While that shot hasn't deteriorated, the rest of Tippett's game hasn't taken the step forward many had hoped. He did reach 75 points in just 51 games this season, finding teammates more often in the offensive zone, but there were times that he looked uninterested or lacking the same desperation that he showed in his draft year.
While this wasn't an outstanding development year for Tippett, he still should bring some huge excitement to Florida fans. In a league where goal scoring is extremely difficult, he has all the tools to be a dangerous offensive weapon. The 19-year old forward can skate well, has enough size to protect the puck and can seemingly beat goaltenders from anywhere in the zone. His release is noticeably quicker than his contemporaries, and he can create room for himself to use it.
Interestingly, the Panthers are still not eliminated from playoff contention after winning again last night. The team sits four points behind the Philadelphia Flyers for the final wild card spot, but has a game in hand and three total remaining. Technically they could even still catch the Blue Jackets and Devils, who sit at 96 and 95 points respectively.
Though it doesn't seem like Tippett is on his way to Florida right now, there's no telling what a long playoff run could bring. Regardless, look for him to try and make the team next fall.
Photo courtesy of USA Today Sports Images