Buried inside the always excellent 31 Thoughts column by Sportsnet's Elliotte Friedman is a report that the Calgary Flames will try to add a first-round pick in this year's draft. The Flames previously traded their first this year as part of the Travis Hamonic deal, and if they miss the playoffs could be forced to wait until the fourth round before picking anyone. That's a long time sitting at the table in Dallas for a team that was extremely disappointing this season, making it obvious why they want to try and reclaim a spot in the first 31.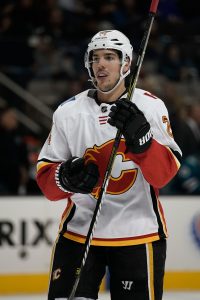 Interestingly, the New York Rangers were recently confirmed as being open to moving one of their three first-round picks, making them a prime target for Calgary over the coming months. Where the Flames want to select is obviously still a big question mark, as there is a big difference in value between the top and bottom halves of the first round. Should they want to land one of the top names in the draft, they'll have to make a big pitch to another non-playoff team.
What they'll be looking to move is also unclear. The Flames have some nice prospects still developing, but it doesn't make much sense to trade one of them to get a first-round lottery ticket. Instead, it's more likely that they would be trying to move an NHL roster player of some sort to recoup their lost pick.
Immediately, someone like Sam Bennett comes to mind as a potential trade chip after a third disappointing season in Calgary. Bennett has just 26 points on the season, and hasn't come anywhere near fulfilling his promise as a fourth-overall pick. Still, he's just 21 and could be seen as a potential building block player for a team a little further away from their playoff window.
In any case, the fact that Calgary is now looking to get back into the first round is a telling indictment of the way their season has gone. Since looking like a contender willing to trade to solidify what was supposed to be one of the best defense corps in the league, to fighting just for a second wildcard spot, things haven't gone according to plan. Even with Johnny Gaudreau's excellent season, Calgary will have to evaluate just what went wrong and how to fix it for 2018-19.
Photo courtesy of USA Today Sports Images