The Nashville Predators have indeed acquired Ryan Hartman from the Chicago Blackhawks, according to Pierre LeBrun of The Athletic. The Blackhawks will receive a 2018 first-round pick, a 2018 fourth-round pick and prospect Victor Ejdsell. Nashville will also receive a 2018 fifth-round pick along with Hartman.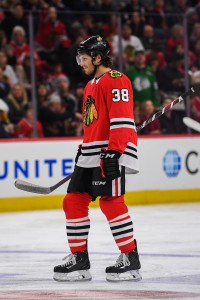 Hartman got off to a flying start to his season, collecting six points in his first two games.  However, he has tailed off offensively since then, tallying just 19 since then in 55 contests.  On the season, he has eight goals and 17 assists while averaging 12:48 of ice time per game.
The gritty winger was Chicago's first-round pick (30th overall) back in 2013 and is in his second full season in the NHL.  He has spent some time at center this year and while the Predators are well-stocked at that position, that type of versatility was certainly attractive to them.
Hartman carries a cap hit of just $863K this season and does not have any bonuses in his entry-level contract.  He will be a restricted free agent in July but will not have arbitration eligibility.
In terms of a return for Chicago, the Blackhawks will be happy with the package received. Though Nashville's first pick will come late in the round, it's still a strong asset to play with and help accelerate the Chicago re-tool. It gives the Blackhawks another shot to select a top prospect, or another piece to use in an offseason trade.
Ejdsell though could be the most interesting piece in the deal. After spending quite a bit of time wooing him last summer, the Predators signed the big winger to an entry-level contract but allowed him to stay in Sweden for another year. He made them look like geniuses, as he jumped to the SHL and has recorded 30 points in 47 games. The 6'4″ winger is a strong goal-scoring threat that can contribute in several different ways in the offensive zone, and could jump right to the NHL level next season.
Photo courtesy of USA Today Sports Images