When the US Olympic hockey team was announced at the Winter Classic, there was two conspicuously empty goaltending spots. Only Ryan Zaploski was named to the crease, and speculation ran wild on who the final two would be. USA Hockey has now released the names, selecting David Leggio and Brandon Maxwell to the team.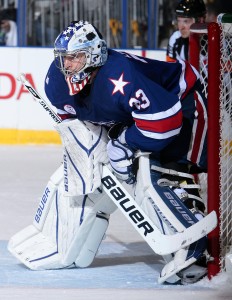 Leggio, 33, has been a professional netminder for a decade now since finishing his fourth year at Clarkson University. After bouncing around the AHL for several years, he headed for the German DEL in 2015, and has found quite a bit of success the last three years. Perhaps known best for the "Leggio Rule" where he would dislodge his own net during a scoring chance, giving the other team a penalty shot, he nevertheless has shown strong goaltending at many different levels.
Maxwell, 26, was a draft pick of the Colorado Avalanche in 2009 and now plays in the Czech professional league. One of the best goaltenders in the league, he has a .921 save percentage this season through 28 games. He'll likely enter the tournament as the number 3 option behind Zaploski and Leggio, but could be called upon if there is injury or inconsistency.