It's clear that Evander Kane will be traded by the Buffalo Sabres before the February 26th deadline, but where exactly he will end up and how much he will cost are still very much up in the air. Today, Darren Dreger of TSN tweeted that interest is "heating up" but that the team still could wait, while Pierre LeBrun of The Athletic chimed in calling it a "good ol' poker game" and explaining that the current asking price is too much for teams to give up.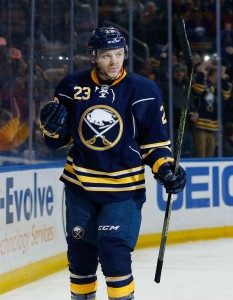 While all eyes are stuck to Kane to see where he'll end up, it's the second half of Dreger's tweet that may be more interesting. The idea that Sam Reinhart won't be dealt in the next two months isn't particularly newsworthy, but the fact that the insider needed to include it is. Reinhart is in the midst of his worst season as a professional, with just 15 points through 45 games and lacking the confidence he showed early in his career. But at just 22-years old you'd think he would be a building block, not a piece of trade bait for the rebuilding Sabres.
Selected second-overall in 2014, Reinhart hasn't made the same immediate impact that Leon Draisaitl (3rd), William Nylander (8th) or Nikolaj Ehlers (9th) have, but still has plenty of time to grow into the formidable two-way center many believed he would be. It's interesting then that he'd be thought of as anything other than an untouchable for Buffalo, as they try to find a path to success under new GM Jason Botterill.
Some of that might come from the fact that Reinhart is now entering his restricted free agent years, and will need a new contract this summer. While it's not clear where exactly negotiations lie between the two sides, if he is available after the season there won't be a shortage of teams willing to take the risk. Remember, Reinhart did score 23 goals and 42 points as a rookie in 2015-16, numbers that would be excellent for any 20-year old that didn't come with top draft status heaped upon them. If the Sabres believe a change of scenery is best, or don't feel the two sides can come to an amiable contract solution, you can bet Botterill will be looking for another huge package of assets in return.
Photo courtesy of USA Today Sports Images