Blue Jackets defenseman Jack Johnson has requested a trade, reports Aaron Portzline of The Athletic (subscription required).  Portzline adds that the ask was made several weeks ago with the hopes that a deal could be worked out before the trade deadline next month.  Johnson and his agent Pat Brisson declined to comment while GM Jarmo Kekalainen had a brief comment to George Richards of the Columbus Dispatch (Twitter link).
"It's the same with him as anyone else on our team: We'll make a trade if and when we have something that makes sense for the Blue Jackets."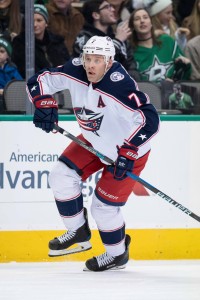 This season hasn't gone as well Johnson was hoping for.  After failing to agree on a long-term extension over the summer (talks cooled down back in August), he has seen his role reduced and now finds himself on the third pairing.  He's averaging a career-low 19:24 per game while he's on pace for his lowest full-season point total since his rookie campaign back in 2007-08 with the Kings; he has just two goals and five assists in 46 games so far.
Portzline notes that Johnson isn't unhappy with the team and that if he was still under contract beyond this season, the request wouldn't have been made.  However, with this being his walk year into unrestricted free agency, he wants to be in the best position to cash in on the open market.
As things stand, it would appear that Johnson will be in tough to match the $5MM salary ($4.357MM cap hit) that he's currently making.  However, a bigger role on another team could give him the chance to show that he can still be a quality top-four defender.
If Columbus was to consider granting Johnson his request, it's likely that they would be seeking another defenseman in return.  They're carrying just six healthy blueliners at the moment with Ryan Murray on injured reserve and while the team has high hopes for youngster Gabriel Carlsson, he isn't ready for full-time NHL duty just yet.