With the collegiate hockey season entering the home stretch, voting for this year's Hobey Baker Memorial Award has opened with 67 players nominated for the award. The trophy is given to the top NCAA player in the country, and has an impressive line of winners over the past few years. In 2013-14, Johnny Gaudreau took home the award as a junior for Boston College, followed by Jack Eichel in his only year for Boston University in 2015-16. The last two trophies have gone out to big offseason free agents in Jimmy Vesey and Will Butcher, who are now playing for the New York Rangers and New Jersey Devils respectively.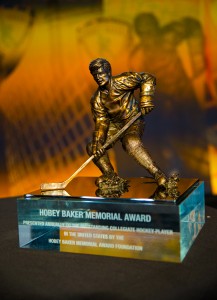 The award also has several top NHL alumni in its small fraternity, including Neal Broten, Tom Kurvers, Paul Kariya, Chris Drury, Ryan Miller and Brendan Morrison. With that group behind them, this year's winner is certainly not someone to take lightly.
The fan vote will be added to the opinions of NCAA head coaches to come up with a 10-man finalist group, which will then have another fan vote and go through a selection committee. The nominees are as follows, with their respective NHL draft teams in parenthesis.
Casey Mittelstadt – University of Minnesota (Buffalo – 8th overall, 2017)
Henrik Bogstrom – University of Denver (Florida – 23rd overall, 2016)
Riley Tufte – University of Minnesota-Duluth (Dallas – 25th overall, 2016)
Trent Frederic – University of Wisconsin-Madison (Boston – 29th overall, 2016)
Wade Allison – Western Michigan University (Philadelphia – 52nd overall, 2016)
Ryan Donato – Harvard University (Boston – 56th overall, 2014)
Dylan Gambrell – University of Denver (San Jose – 60th overall, 2016)
Joey Anderson – University of Minnesota-Duluth (New Jersey – 73rd overall, 2016)
Erik Foley – Providence College (Winnipeg – 78th overall, 2015)
Louie Belpedio – Miami University (Minnesota – 80th overall, 2014)
David Pope – University of Nebraska-Omaha (Detroit – 109th overall, 2013)
Ross Colton – University of Vermont (Tampa Bay – 118th overall, 2016)
Colton Point – Colgate University (Dallas – 128th overall, 2016)
C.J. Suess – Minnesota State University (Winnipeg – 129th overall, 2014)
Chase Pearson – University of Maine (Detroit – 140th overall, 2015)
Troy Terry – University of Denver (Anaheim – 148th overall, 2015)
Adam Gaudette – Northeastern University (Vancouver – 149th overall, 2015)
Tyler Vesel – University of Nebraska-Omaha (Edmonton – 153rd overall, 2014)
Denis Smirnov – Pennsylvania State University (Colorado – 156th overall, 2017)
Brett Seney – Merrimack College (New Jersey – 157th overall, 2015)
Cooper Marody – University of Michigan (Philadelphia – 158th overall, 2015)
Tanner Laczynski – Ohio State University (Philadelphia – 169th overall, 2016)
Brian Pinho – Providence College (Washington – 174th overall, 2013)
Dylan Sikura – Northeastern University (Chicago – 178th overall, 2014)
Jake Evans – University of Notre Dame (Montreal – 207th overall, 2014)
Daniel Brickley – Minnesota State University (undrafted)
Jacob Hayhurst – R.P.I (undrafted)
Stefanos Lekkas – University of Vermont (undrafted)
Tony Calderone – University of Michigan (undrafted)
Jordan Gross – University of Notre Dame (undrafted)
Mason Bergh – Colorado College (undrafted)
Mitch Maloney – Ferris State University (undrafted)
Scott Pooley – College of the Holy Cross (undrafted)
Andrew Sturtz – Pennsylvania State University (undrafted)
Olivier Mantha – University of Alaska-Anchorage (undrafted)
Mitch McLain – Bowling Green State University (undrafted)
Mason Jobst – Ohio State University (undrafted)
Kyle Schmidt – Bentley University (undrafted)
Jake Kielly – Clarkson University (undrafted)
Cale Morris – University of Notre Dame (undrafted)
Mitch Reinke – Michigan Technological University (undrafted)
Nick Halloran – Colorado College (undrafted)
Noah Delmas – Niagara University (undrafted)
Myles Powell – Rochester Institute of Technology (undrafted)
Ryan Scarfo – Union College (undrafted)
Cole Maier – Union College (undrafted)
Brent Beaudoin – Brown University (undrafted)
Michael Bitzer – Bemidji State University (undrafted)
Mitchell Fossier – University of Maine (undrafted)
Derian Plouffe – Niagara University (undrafted)
Taro Hirose – Michigan State University (undrafted)
Jimmy Schuldt – St. Cloud State University (undrafted)
Josh Kestner – University of Alabama-Huntsville (undrafted)
Scott Perunovich – University of Minnesota-Duluth (undrafted)
Peter Tischke – University of Wisconsin-Madison (undrafted)
Ryan Wagner – University of Wisconsin-Madison (undrafted)
Alec Rauhauser – Bowling Green State University (undrafted)
Matthew Weis – Ohio State University (undrafted)
Robbie Payne – Northern Michigan University (undrafted)
Josh Melnick – Miami University (undrafted)
Dylan McLaughlin – Canisius College (undrafted)
Matt O'Donnell – University of Vermont (undrafted)
Brennan Kapcheck – American International College (undrafted)
Sheldon Rempal – Clarkson University (undrafted)
Gordie Green – Miami University (undrafted)
Devin Buffalo – Dartmouth College (undrafted)
Max Veronneau – Princeton University (undrafted)