Last summer, the Capitals surprised many by finding a way to keep winger T.J. Oshie around instead of losing him in free agency.  This year, they're facing that same situation with defenseman John Carlson who is set to become a UFA on July 1st.  Speaking with NHL.com's Tom Gulitti, GM Brian MacLellan stated that although they don't feel like they have to reach an extension before the trade deadline, they have decided that they are going to try to keep him with the team long-term:
"I think in the beginning, we were wondering where we were going to be as a team. [Now], we're going to want him back no matter what, so we're going to make our best effort to bring him back."
As was the situation with Oshie last year, Washington has a lot of money committed for 2018-19 already and quite a few roster spots that will need to be filled.  Per CapFriendly, they have nearly $59MM locked in to just 13 players for next season and while the salary cap was recently pegged to jump closer to $80MM, that still doesn't leave much in the way of wiggle room to sign Carlson plus six to nine other players (including goalie Philipp Grubauer and winger Tom Wilson who are both restricted free agents with arbitration eligibility).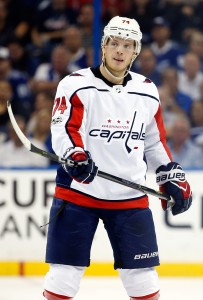 Accordingly, if the Caps and MacLellan are able to find a way to keep Carlson around, they will likely be in a situation where they will have to move out a notable player, similar to what they did with Marcus Johansson last summer when they flipped him to the Devils when Oshie re-signed and Evgeny Kuznetsov inked his new contract.
Considering how important Carlson is to the Capitals though, there's a strong case to be made that losing another important piece to keep him around is still a move worth making.  He is logging more than 26 minutes per night on the back end (fifth most in the NHL) while his 35 points have him on pace for a new career best while ranking second among all blueliners.  It's hard to lose a player like that for nothing in free agency.
As a result, Washington could be facing a situation where they have to come close to doubling Carlson's current cap hit ($3.967MM) on a long-term deal; they are the only team that will be able to offer the maximum eight years.  That would put them at over $30MM on their back end which is more than what any team is currently spending on their defense corps.  At first glance, a buyout for Brooks Orpik and his remaining $5.5MM could alleviate the situation a little bit but even if they do that, they'd still carry a cap charge of $2.5MM for 2018-19 (plus $1.5MM in 2019-20).
MacLellan was able to find a way to keep most of his core together last summer despite their salary cap situation.  It will certainly be interesting to see if he can pull it off for a second straight year by keeping Carlson away from the open market.
Photo courtesy of USA Today Sports Images.