With the Arizona Coyotes looking up from the bottom of the standings once again, trade speculation surrounding their best player has heated up in recent months. Oliver Ekman-Larsson is a free agent in the summer of 2019, and could fetch a massive return if the Coyotes decided to move him. That won't be happening any time soon though, as GM John Chayka told Craig Custance of The Athletic. When asked about the chance Ekman-Larsson is traded, he made it clear:
Nope. None. Zero. For us, it's pretty simple. Oliver has invested a lot into this team, continues to want to make it work. He's one of the top defensemen in the league and, I guess, is expecting to be paid that way and that's fine with me.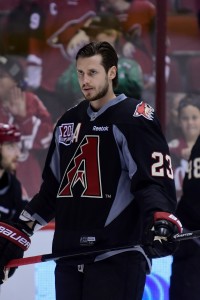 Chayka goes in-depth on his reasoning and strategy behind keeping Ekman-Larsson on the team, and Custance susses out some of his interesting theories on rebuilding. At the end, it seems clear that Chayka wouldn't consider a move for his star defenseman.
While Chayka is usually seen as an analytics whiz-kid, who is trying to go down a new path in hockey management, we've seen some old-school ideals from him in the past. Radim Vrbata was an attractive trade chip at last year's deadline, but Chayka set a high asking price and ended up keeping the veteran forward for the rest of the season. Vrbata signed elsewhere in the summer, but Chayka wasn't willing to give away a player just to maximize assets.
It seems as though a similar thing is going on with Ekman-Larsson. In a vacuum, trading the defenseman now for help down the line seems like the most value you can pull from the situation. But Ekman-Larsson's history with the team, value to the marketing department, and loyalty throughout his career so far all play a part. The fact that he's an outstanding player and could still re-sign with the team makes this an easy decision for Chayka. He stays put—for now.
Photo courtesy of USA Today Sports Images