Last year we saw something incredible in the NHL. Riley Sheahan of the Detroit Red Wings played 79 games and took 106 shots on net without scoring a goal. Stories were written, fans were left in disbelief and Sheahan just had to go out every night and try to get one across the line. Finally, on April 9th in his 80th and final game of the season Sheahan scored—twice.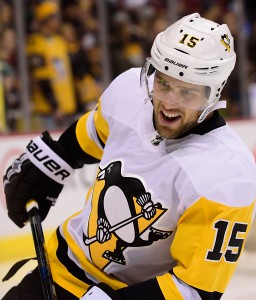 It's not like Sheahan had done anything like it before. He'd had seasons of 9, 13 and 14 goals the first three seasons of his career. He actually carried an above-average shooting percentage of 11.9% through that time. He was no sniper, but he could be a solid secondary scoring threat. This year there are several players that can relate with Sheahan, including one that has a solid link to him.
Sheahan didn't score his first goal this year until a trade brought him to Pittsburgh. He has two now on the year, and eight points in 21 games for the Penguins. The player he was traded for though hasn't been quite as lucky.
Scott Wilson, traded first for Sheahan and then again to the Buffalo Sabres later in the season, has now played 21 games this season. In those games he's registered 172 minutes of ice time, including over 14 in his first game with Buffalo. Amazingly, he's been held completely scoreless. Not a single goal, not a single assist. Wilson leads all scoreless forwards in games played, but there are some other interesting members along for the ride.
Matt Stajan, a two-time 50-point man has played 19 games without a point. He's played even more minutes, 210, without hitting the scoresheet—well, at least not for scoring. Stajan has taken 10 penalty minutes, something that you can't say for Wilson. Incredibly, the Buffalo Sabres forward hasn't even taken a single minor penalty. Other than the 14 shots he's recorded, he's basically been a boxscore ghost.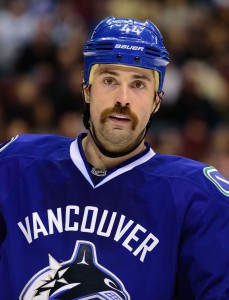 There are other forwards who are on the list, like Zac Dalpe, Torrey Mitchell and Matt Beleskey but none of them hold a candle to the leader when expanded to include defensemen. Erik Gudbranson, the Vancouver Canucks' rough and tumble defenseman has logged 372 minutes of ice time this season and still has a big fat zero in the points category.
Gudbranson isn't an offensive player. That much has been obvious his whole career, and it wasn't why the Canucks went out and acquired him from the Florida Panthers. But this is impressive even for him. He's always been a lightning rod for the argument between traditional and new analytics, but he's actually reached a new low in his possession rates. As an unrestricted free agent this summer, some believe he'll be a sought-after trade deadline commodity.
It doesn't matter if he has zero points or a handful when the trade deadline comes around, it really doesn't change the player he is. But for the third-overall pick in 2010 it's an impressive accomplishment, even if he wouldn't agree.
Photo courtesy of USA Today Sports Images