In some heart-breaking news to hear around the holidays, Toronto Maple Leafs legend and NHL Hall of Fame goaltender Johnny Bower has passed away at the age of 93. A short statement was released by the Bower family, that outlined some of his past greatness:
Bower is renowned for his generosity, having raised money for such causes as the Candian Kidney Foundation, Canadian Arthritis Society as well as advocating for Canadian military veterans and their families. He has been a long-time spokesperson for the Peel Children's Safety Village and Honorary Chief of Police in Peel Region since 2003.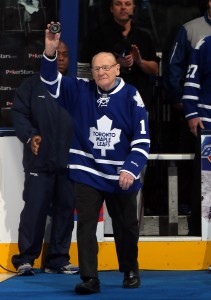 The fact that a statement of Bower's legacy includes so much mention of his post-hockey work is no mistake. Though he was a titan of goaltending between 1953 and 1969, playing in 552 contests and winning four Stanley Cups and two Vezina trophies, his impact off the ice was even greater. Bower had been a long standing ambassador for hockey in the Ontario region for decades, with an impact of some sort on thousands of players.
While the goaltender was a familiar face at Maple Leafs games and Hockey Hall of Fame events, his daughter Cindy is as well-known in minor hockey rinks across the province as a power skating coach. There are few young Ontario-born players who've reached any heights without some interaction with the Bower family.
A statue of Bower was erected outside the Air Canada Center in Toronto in 2014 as part of "Legends Row" and he was named the 7th-greatest Maple Leafs player of all-time in recent years. He is survived by Nancy, his wife of 69 years, children John Jr., Cindy and Barbara, eight grandchildren and six great-grandchildren.
To Mike Zeisberger of NHL.com, perhaps Brendan Shanahan put it best.
There may not be a more loved Toronto Maple Leaf, nor a former player who loved them as much back.