To say things have not gone well for Flames forward Sam Bennett this season would be an understatement.  He finally snapped a season-long pointless streak on Thursday night and is averaging the lowest ice time of his young career at 13:23 per night.  That's hardly what anyone was expecting from the fourth overall selection back in 2014.
Earlier this week, TSN's Bob McKenzie reported (video link) that Flames GM Brad Treliving doesn't necessarily want to move the struggling 21-year-old but at the same time, he isn't hanging up when other teams inquire about his availability.  Even though he's off to a terrible start, he's only a few years removed from being a high-end prospect and players with that type of draft pedigree typically get a few chances if they don't perform with their original team.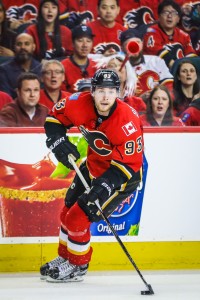 Sportsnet's Rory Boylen examined Bennett's situation and usage this year and one prominent question comes to mind: When is it the right time to look at trading him?  It's safe to say his trade value is far from its highest so at first glance, a case can easily be made to hold on in the hopes that he returns to form and restores some value.
However, what if his struggles continue?  Or, perhaps more likely, he rebounds a little bit but remains more of a supporting cast player?  That won't really help his trade value and perhaps may lower it further.  They may want to avoid the situation that Edmonton had with Nail Yakupov last year where his trade value had all but bottomed out.  Bennett isn't at that spot yet but that could change by the end of the season if he doesn't rebound.
At the moment, Calgary isn't likely to get more than a similarly-struggling young player or a rental player in return for Bennett.  While the latter option would probably be a nice boost to their roster, they'd also be giving up on someone that was believed to be part of their long-term core for a player who may not be there six months later.  Is the short-term gain worth it?  In terms of taking another scuffling forward back, it's likely that Treliving would rather stick with the player they know.
For the time being, it's hard to envision Calgary parting ways with Bennett despite his rough start to the year.  If he doesn't pick it up in the weeks to come, however, he's a player who is likely going to find himself in trade speculation where talks of him needing a change of scenery will begin to pop up.  If and when that happens, it will be interesting to see if Treliving will hold on to him or cut bait before his situation has a chance to mirror Yakupov's from a year ago.
Photo courtesy of USA Today Sports Images.