When the waiver list came out today, it conspicuously did not include the name of Vadim Shipachyov (or any others for that matter). The Vegas Golden Knights forward is currently suspended for leaving their AHL affiliate, and was considered to be a candidate for contract termination. That would require clearing unconditional waivers, but as Eric Engels of Sportsnet reports there remains the possibility of a trade. Shipachyov signed a two-year $9MM contract this summer, but has played just three games for the Golden Knights so far this season.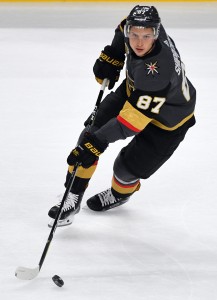 Shipachyov started the year on the roster of the Chicago Wolves of the AHL due to his waiver-exempt status, but didn't report to the team for their first few games. Instead, he stayed in Vegas with his family helping them become accustomed to life in the United States. When he was called up to the Golden Knights, he played three games but didn't make much of an impression on his coach even while the team continued their torrid start. When sent down this time, he first reported to practice before leaving the team once again. He was subsequently suspended, making a bad situation even more tense.
Should the Golden Knights not be able to find a trade partner, a mutual termination of his contract would likely come with a return to the KHL. It remains very unlikely that he would sign a new contract with someone in the NHL this season, though technically that would be a possibility. Engels reported last night on Sportsnet that he believed Shipachyov's agent Petr Svoboda was still talking with a few teams trying to help facilitate a trade, though it is not clear how close any deal is.
The Golden Knights have recently waived both Jason Garrison and Griffin Reinhart without incident, sending them through to the minor leagues and opening up roster spots. One of those is expected to be used on Shea Theodore instead of Shipachyov, showing that this isn't just about roster construction. The team has room to bring him back up if they wanted to, but with how he has reacted recently it may have forced their hands.
Photo courtesy of USA Today Sports Images