The Ottawa Senators have signed defenseman Mark Borowiecki to a two-year contract extension. The deal will kick in for the 2018-19 season, and carries an average annual value of $1.2MM. Borowiecki is heading into the final year of his three-year, $3.3MM extension signed in 2014, and has established himself as a full-time member of the Senators blueline.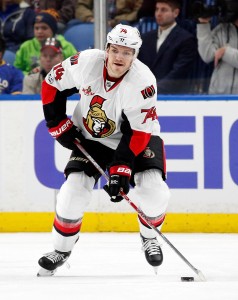 Borowiecki, 28, is an Ottawa native that has made it a long way from the fifth-round. Selected 139th-overall in 2008, a stint at Clarkson University before continually showing off his wrecking ball-like qualities in the minor leagues finally got him a chance. He stuck, and has now played at least 63 games in each of the last three seasons with the Senators. As he's gotten more comfortable in the league his physical play has only increased, to the point of registering a league-leading 364 hits last year. Even more impressive, is the fact that he did that in just 14 minutes of ice time a night playing on the Senators' third pairing.
The hitting machine won't provide much offense, but with the system that the Senators play—which forces the puck to his side of the ice at the defending blueline—Borowicki is able to blast players over and over. In 217 games he's recorded 17 points, 436 penalty minutes and 939 hits.  Still, some would complain that the team would be better off with a more capable puck moving defenseman that can move up in the lineup. The team seems to be in no danger of needing him to play more minutes though, as Dion Phaneuf, Johnny Oduya are both locked in on the left side with Thomas Chabot and Ben Harpur still to come.
$1.2MM will be just a slight increase on the $1.1MM he earns this year, but will help the Senators keep costs low as they inch closer to an Erik Karlsson extension. The team has to sign Mark Stone, Kyle Turris and Cody Ceci this summer, while Karlsson and Derick Brassard are up the year after that. It doesn't look like they'll be able to keep everyone happy, so plugging in a relatively cheap veteran option on the bottom pair helps quite a bit.
Photo courtesy of USA Today Sports Images