The NHL has made its decision on whether or not Marian Hossa can be placed on long-term injured reserve, and it's a good one for the Chicago Blackhawks. According to Scott Powers of The Athletic, the league has decided that the Blackhawks can indeed use the cap-saving measure on Hossa, after they confirmed his skin disorder with an independent physician.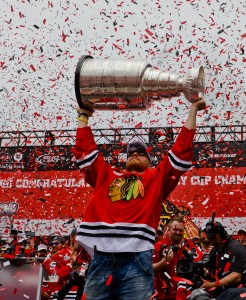 Hossa has dealt with the issue for years, but it has progressed to the point where he won't be able to play this season. That raised several eyebrows around the league as the 38-year old has four years left on his contract at a $5.28MM cap hit, and the team is once again pushed right up to the cap ceiling. Despite the big cap hit, the contract will only actually pay Hossa $1MM per season, as the deal was signed before the previous collective bargaining agreement. Allowing him to be placed on LTIR will help the Blackhawks out salary-wise, but they would likely rather just have the future Hall of Fame forward in the lineup instead. Hossa's presence is hard to replicate, and the Blackhawks will have to rely on some younger players to try and fill the gap left by his absence.
Though no one has said that this is basically a retirement for Hossa, it wouldn't surprise many if it were. The legendary winger will turn 39 this season, and has done just about everything there is to do in his career. A three-time Stanley Cup Champion, six-time All-Star, and Memorial Cup Champion, Hossa has been a perennial Selke candidate as one of the league's best defensive forwards while also recording 1,134 points in 1,309 regular season games. Add in another 149 points in 205 playoff contests, and participation in four different Olympic Games, and you have the resume of one of the greatest wingers in recent history.
Once Hossa is placed on LTIR, the Blackhawks should be able to add Cody Franson on an NHL contract of some sort. The free agent defenseman attended camp on a professional tryout, but has been expected to have a handshake deal in place since joining the team. Now that the club will get a little cap relief from moving Hossa to injured reserve, they'll be able to announce whatever contract the two have agreed upon.
Photo courtesy of USA Today Sports Images