According to Chris Johnston of Sportsnet, the Toronto Maple Leafs will indeed be allowed to place Joffrey Lupul on long-term injured reserve, after the veteran forward failed a second physical administered by the league. Like Marian Hossa in Chicago, this ruling will provide Toronto with some cap relief, though the two situations are very different.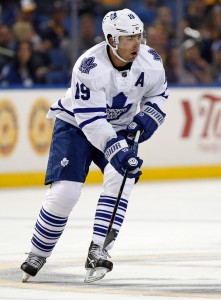 Lupul hasn't played with the team in several years, and caused a media uproar earlier this summer when he posted some comments seeming to call out the Maple Leafs for cheating the system. He later deleted them and apologized, explaining that it was just frustrating for him sitting on the sidelines. The Lupul saga has many reports of the team not wanting him around anyway, and that they were willing to eat his contract to keep him off the team.
Interestingly, CapFriendly just this morning released a new full explanation of the ways you can use LTIR but if you aren't interested in the minutia of the rule just know that the Maple Leafs are at little risk of going over the cap this season thanks to Lupul and fellow injured forward Nathan Horton. They still could carry another bonus overage into next season thanks to the outstanding totals of their entry-level players, but that's less of a concern for the time being.
Photo courtesy of USA Today Sports Images