Following a convincing win over the Sabres yesterday, the Devils are now sitting pretty at 2-0. Well, before the season even started, general manager Ray Shero sat down with Amanda Stein of NHL.com to discuss his offseason and opening day roster. In particular, Shero talked about a pair of notable rookies, although he also discussed the factors that went into constructing his 23-man roster. While the whole article is worth reading, we've highlighted some of the notable quotes below: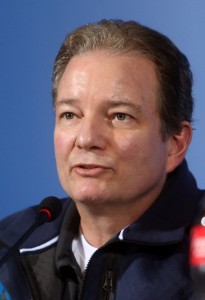 On first-overall pick Nico Hischier:
"I think every day everybody sees [Hischier] getting more comfortable on the ice and off the ice as well. As camp went on and playing with our veterans, his creativity and vision is certainly something that we didn't have in this organization. He is everything we hoped so far that he would be."
On fellow rookie forward Jesper Bratt:
"This is a sixth-round pick. He has been fantastic. Every day and every exhibition game he has made an impact. When you ask about surprises, that's been a nice surprise, but at the same time that's how an organization moves along." 
On how the team's new players will impact overall performance:
"I think day one of training camp, the players really came to camp in great shape. They know last year was not acceptable, and I believe some of the players that we added, certainly the new players have really pushed the pace and really bought in to what we're trying to do here."
Photo courtesy of USA Today Sports Images.