Though we recently heard that an extension for James van Riemsdyk could cost as much as $6MM, another Toronto Maple Leafs forward hasn't even had talks with the team about his next contract. Tyler Bozak who, like van Riemsdyk is a free agent next summer, told Luke Fox of Sportsnet that he hadn't had any talks with the Maple Leafs yet, and is just focused on the upcoming season. Bozak will earn $4.2MM this season on the final year of his five-year deal.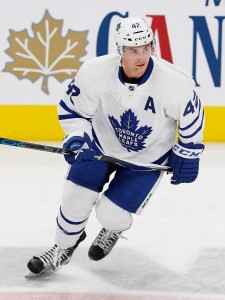 Bozak, 31, is part of the old guard of Maple Leafs' 2013 postseason run left over from the last regime but had an exceptional season last year as much of the pressure was taken off him to be their top center. With Nazem Kadri stepping into a larger role and Auston Matthews assuming the #1 duties, Bozak was allowed to skate freely alongside James van Riemsdyk and Mitch Marner without tough defensive responsibilities. That resulted in a 55-point season, one that will surely pay off on the open market next summer.
For the time being, Bozak continues to be the target in much trade speculation as he is one of the only true offensive centers that could be available. The Maple Leafs are clearly looking to contend this season and aren't eager to move some of their key forward pieces, but are also blessed with quite a bit of young depth on the wings and the possibility that William Nylander could be moved back to center. The New York Rangers, Pittsburgh Penguins, Anaheim Ducks and others look like potential fits for Bozak if the Maple Leafs decided to move on. Never a great defensive player, his offensive instincts and faceoff ability are still good enough to be an above-average third line center for the majority of the league.
The Maple Leafs of course have more to worry about than just contending this season. Next summer will see Nylander hit restricted free agency for the first time, while Matthews and Marner will join him a year later. Jake Gardiner will need a contract extension at some point—his deal expires after 2018-19—and so will van Riemsdyk and Leo Komarov, if the team chooses to keep them around. All that needs quite the financial plan for the next few years, and it's not clear where Bozak fits into that. If a deal isn't struck by the new year, expect his name to be near the top of all the trade bait boards.
Photo courtesy of USA Today Sports Images