With the NHL season now just a month away, it's time to look at what each team has done this summer and what to watch for in the year to come.  Today, we focus on the Toronto Maple Leafs.
Last Season: 40-27-15 record (95 points), third in Atlantic Division (lost in the first round to Washington)
Remaining Cap Space: $-4.58MM per CapFriendly (They will get back into compliance via LTIR once the season starts.)
Key Newcomers: D Ron Hainsey (free agency, Pittsburgh), F Patrick Marleau (free agency, San Jose), F Dominic Moore (free agency, Boston)
Key Departures: F Brian Boyle (free agency, New Jersey), D Matt Hunwick (free agency, Pittsburgh), D Alexey Marchenko (mutual contract termination), D Roman Polak (free agency, unsigned)
[Related: Maple Leafs Depth Chart From Roster Resource]
Player To Watch: F Patrick Marleau – While Toronto's 'big three' of Auston Matthews, Mitch Marner, and William Nylander are certainly worth watching to see how they continue to progress, Marleau's case is going to be a really interesting one to keep an eye on.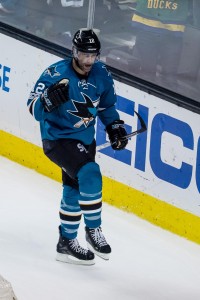 For starters, the fact that he left San Jose to sign a three-year deal with Toronto after spending 19 seasons with the Sharks makes his situation particularly interesting.  But it will also be worth watching to see what type of role he has with the Leafs.
Their depth on the left-hand side gives head coach Mike Babcock plenty of options.  He could choose to deploy him on the top line with Matthews and give that trio another proven scorer to work with.  Alternatively, Marleau could plausibly find himself on the second or even the third line as they're going to have the capability to have three quality scoring units to work with.
Marleau's offensive production has dropped in the last two years with his point-per-game average being his lowest since 2001-02.  Is that a sign that he's on the decline (he turns 38 this coming week) or will a new environment filled with a lot of younger, offensively-minded players lead to a resurgence?
Key Storyline: There's no denying that the Maple Leafs will be able to score.  They were fifth overall in that department last season and should be around that mark once again.  However, they were in the bottom third of the league in goals allowed in 2016-17 and they haven't done much to improve in that area.
Hainsey was brought in to replace Hunwick and he is expected to start on the top pairing alongside Morgan Rielly.  At this stage of Hainsey's career, he's not an ideal fit to play heavy minutes although he will bring a bit more stability in his own end.  Toronto will be counting on further development from their returning blueliners from last season to help out as well but that may not be enough.
As a result, many expect GM Lou Lamoriello will have to make a move to shore up their back end.  If the thought is to wait until around the trade deadline, it would make sense for them to deal for short-term help in the form of a rental but if the defense is an issue early on, they may have to dip into their forward depth to bring in another top-four option.
Photo courtesy of USA Today Sports Images.