With the NHL season now just a month away, it's time to look at what each team has done this summer and what to watch for in the year to come.  Today, we focus on the San Jose Sharks.
Last Season: 46-29-7 record (99 points), third in Pacific Division (lost in the first round to Edmonton)
Remaining Cap Space: $8.71MM per CapFriendly
Key Newcomers: None.
Key Departures: F Patrick Marleau (free agency, Toronto), D David Schlemko (expansion draft, Vegas), D Mirco Mueller (trade, New Jersey)
[Related: San Jose Depth Chart From Roster Resource]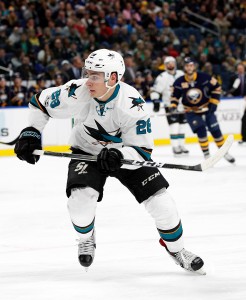 Player To Watch: F Timo Meier – The San Jose Sharks didn't get involved in the free agent sweepstakes this year, instead deciding to focus internally and extend their own key players. Marc-Edouard Vlasic and Martin Jones received huge extensions, and Joe Thornton was brought back on a one-year deal. Because of their lack of newcomers, some of their young players will have to step up and Meier is first on the list.
San Jose's first-round selection from 2015, Meier made his debut last season but was extremely inconsistent. Armed with the size, strength and shot to be a successful top line winger, he registered just six points in 34 games and was held off the scoresheet entirely in the playoffs. The most important thing to remember about Meier is that he won't turn 21 until October, and could easily turn the corner into an elite-level player at a moment's notice.
With Marleau gone to Toronto and Tomas Hertl the leading candidate to slide into the third-line center role, Meier could get an early opportunity to play up in the lineup. It's not clear how the lines will shake out, but if he's given more than the 12:28 he averaged last season there could be some early offensive results. If the Sharks are to get back to the playoffs and take another step, players like Meier, Hertl and Chris Tierney will need to start to take some of the load off of the older Sharks core. Thornton, Joe Pavelski and Joel Ward are all at the age where a precipitous drop off could happen at any time, meaning the young depth is more important than ever.
Key Storyline: A few years ago the question of a rebuild was thrown around in San Jose, after the team missed the playoffs for the first time in a decade. Instead, they doubled down with their aging core and made it to the Stanley Cup Finals the next season. Now it seems they've done nearly the same thing, though Marleau has moved on to greener (or perhaps bluer) pastures. Brent Burns will turn 33 during this first year of his eight-year extension, while Vlasic will turn 32 during the first season of his (2018-19). Though they clearly have enough talent to compete right now, it could get ugly a few years down the road.
So, when watching the Sharks this season one must understand that their window is happening right now and they'll need to use the cap room available to them to add at the deadline. The unfortunate thing is that they have already moved their second and third round picks from the 2018 draft, one thought to be exceptionally deep. If they really think they can compete right now, a first-rounder would carry a lot of weight.
It's not all worry though, as the team has no long-term contracts on the books up front, and could deal with some expensive veteran options on the blueline for the next while. They might not be perfectly positioned for Stanley Cup contention in 2022, but there is still a lot of hockey to play before then. For now, Burns, Vlasic and the rest of the old guard will try to show they still have enough in the tank to play the elite-level hockey they're known for.
Photo courtesy of USA Today Sports Images