With the NHL season now just a month away, it's time to look at what each team has done this summer and what to watch for in the year to come.  Today, we focus on the Philadelphia Flyers.
Last Season: 39-33-10 record (88 points), sixth in Metropolitan Division (missed the playoffs)
Remaining Cap Space: $4.9MM per CapFriendly
Key Additions: G Brian Elliott (free agency, Calgary), F Jori Lehtera (trade with St. Louis), F Nolan Patrick (entry draft)
Key Departures: F Nick Cousins (trade with Arizona), D Michael Del Zotto (free agency, Vancouver), F Roman Lyubimov (CSKA Moscow, KHL), G Steve Mason (free agency, Winnipeg), F Brayden Schenn (trade with St. Louis), D Nick Schultz (free agency, unsigned)
[Related: Flyers Depth Chart From Roster Resource]
Player To Watch: F Claude Giroux – Giroux has been Philadelphia's front line center pretty much full-time since 2010-11.  However, after hovering at a point-per-game or better for three straight years (2011-12 through 2013-14), his production has dropped for three straight years with his output last season (14 goals and 58 points) checking in well below his career averages.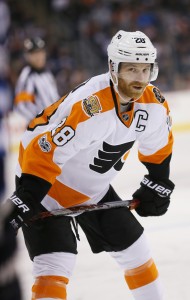 Giroux is still just 29 and shouldn't be on the downswing just yet but it's fair to question if his decline is a sign of things to come or are better days on the horizon?  With no real help being brought in offensively over the course of the summer (Schenn to Lehtera is a bit of a step back), the team is undoubtedly counting on Giroux to pick up his play.
The Flyers have their top line center of the future in Patrick but he's still a few years away from realistically being ready to ascend to that role.  Their other internal options (Lehtera, Valtteri Filppula, and Sean Couturier) aren't capable of being top liners so expectations are going to remain high on Giroux for this season and well beyond.  If he can get back to even around the 70 point mark, Philadelphia will be much better off for it.
Key Storyline: There aren't many certainties around the league from year-to-year but one of them is the annual question of whether the Flyers have good enough goaltending and this season is no exception.
Elliott did not play particularly well with Calgary last season and his numbers were only marginally better than what Mason put up as the starter in 2016-17, a level of production that wasn't good enough.  If Elliott plays similarly this year, starting goaltending will likely be a problem once again.  That said, there is upside here based on his play with St. Louis over the previous few seasons.  If Elliott gets even close to that level of performance, then Philadelphia will have a reliable starter.
Michal Neuvirth is still in the fold as well and will be looking to push for more playing time as well.  He's also coming off of a down campaign but is only one year removed from a strong year with Philly.  However, he hasn't been able to hold down the number one role for long in the past.
In a perfect world, both veterans rebound and provide the team with above average goaltending but if they repeat their performances from last season, their play between the pipes will be problematic once again.  One of these years, the Flyers will find themselves with some stability in goal with a proven, high-quality starter but 2017-18 isn't going to be the year it happens.
Photo courtesy of USA Today Sports Images.