The Carolina Hurricanes have signed Brett Pesce to a six-year, $24.15MM contract extension that will kick in for the 2018-19 season. The $4.025MM average annual value will make him the third-highest defenseman on the team, behind Jaccob Slavin's own extension at $5.3MM per season and Justin Faulk's $4.83MM cap hit. Hurricanes GM Ron Francis released a statement on the signing:
Brett took another big step forward last season. He plays a smart defensive game and has good ability to move the puck and contribute offensively. We plan for him to be a part of the Hurricanes' defensive corps for a long time.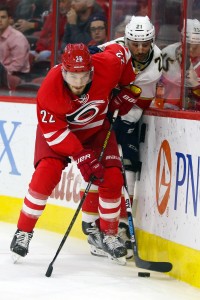 Alongside Slavin, Pesce may be one of the most underappreciated defensemen in the league; one who has blossomed into a top-pairing player without anyone noticing. Some of that is due to playing in Carolina, and some is due to the extremely low-key style he plays. Logging over 21 minutes a night last season. Pesce recorded 20 points but was an absolute rock in his own end. His defensive positioning and ability to skate the puck out of trouble when he needs to make him an elite shot-suppressor, and his incredibly active stick gives him a knack for poke checks and clearing rebounds from in front of his net. As part of the extremely young defense corps in Carolina, he may even be the most reliable in his own end and someone who you can match against the opponent's top lines for years to come.
Just 22, Pesce was a third-round pick by Carolina back in 2013 and has developed alongside Faulk and Slavin as three excellent players selected outside of the first-round. The rest of the defensive pipeline, made up of players like Noah Hanifin, Haydn Fleury and Jake Bean, will allow Carolina to work from a position of strength in any trade negotiations as they inch closer to playoff contention. Their defensive group is close to rivaling some of the best in the league, and is expected to be made up this year of six players who are 26-and-under. It's impressive what they've built, but there are some downsides to the big extensions kicking in next season.
Carolina is a cap-floor team, and nowhere close to being able to spend all the way up to the $75MM ceiling (barring a huge salary increase from a potential purchase). Next season, when there is a ~8MM salary bump from these two extensions, the team will have to make some tough decisions on their restricted free agents. Hanifin, Trevor van Riemsdyk—who, incidentally was Pesce's roommate at the University of New Hampshire—and Klas Dahlbeck are all RFAs in 2018, along with Elias Lindholm and Joakim Nordstrom, two important forwards. While some money is due to come off the books in the way of Cam Ward and Lee Stempniak, those players will need to be replaced as well making it hard to see how Carolina can afford to keep everyone.
Even if they do have to move some of their pieces, this deal could look like another steal for the Hurricanes if Pesce continues to develop. Buying out just two years of free agency allows them to keep the cap hit relatively low for the time being, while taking them right through most of his prime years.
Photo courtesy of USA Today Sports Images